Mixed response to India workers' strike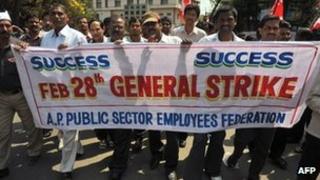 A strike called by most of India's major trade unions has had a mixed response, with banks and transport services shut down in some areas.
Banks in Mumbai, the financial capital, were closed, with one union official saying there had been a "complete shutdown" in the sector.
Shops and offices in Calcutta were shut and roads almost empty of traffic while the capital Delhi was little affected.
The strikers are demanding better conditions and anti-inflation measures.
Services on India's rail network have not been disrupted, but passengers arriving at Delhi's main station had trouble finding transport to other parts of the city, AFP news agency says.
'Everything normal'
The one-day strike has the support of most of India's major trade unions and thousands of smaller unions from across the political spectrum.
Most roads in Calcutta, the capital of West Bengal state, were deserted with very little traffic, said the BBC's Amitabha Bhattashali.
Public transport services have been badly hit and most shops were closed, our correspondent said. Many people stayed back in their offices on Monday to make sure that they could attend work on Tuesday.
However, the city's metro railway network was running normally and flight operations from the domestic and international airports were on schedule, the Press Trust of India news agency said.
"Everything has been normal so far. Things are going on well. Tight security arrangements are in place with 400 police pickets set up in various parts of the city," police commissioner RK Pachnanda said.
Indian media reported that the strike had little impact in Delhi and Mumbai, apart from the closure of banks.
The strikers have been calling for a nationwide minimum wage, social security benefits such as pensions for all workers, permanent jobs for contract workers, better enforcement of labour laws and an end to selling off profitable state-owned firms.
Although India's inflation rate dropped from 9.1% in December, it remains stubbornly high at 7.5%. The strikers also want improved efforts to bring the rate down.
India's economy has slowed in recent months, with growth for the year ending in March expected to be around 7%, lower than the previous forecasts of about 9%.
The government of Prime Minister Manmohan Singh is trying to cut its budget deficit by selling state firms.