India fires back in border state row with China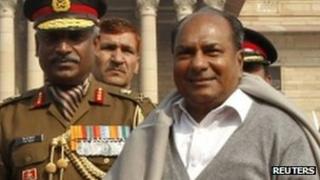 India's defence minister has said Arunachal Pradesh is an integral part of India, after Beijing objected to his visit to the north-eastern state.
China claims the state, which borders the Chinese region of Tibet.
After AK Antony's visit to the state, a Chinese foreign ministry spokesman had said India should not do anything to "complicate" the border issue.
The two countries dispute several Himalayan border areas and fought a brief war in 1962.
Mr Antony said the comments were "most unfortunate" and "objectionable".
He said Arunachal "is an integral part of India and as defence minister it is my right and duty to visit the state".
Beijing also protested when Prime Minister Manmohan Singh visited Arunachal Pradesh during his 2009 election campaign.
Map dispute
Mr Antony visited the north-eastern state earlier this month to mark the 25th anniversary of its statehood.
"I was surprised to see such a reaction. I feel it is most unfortunate and, at the same time, it is really objectionable," he told reporters in the capital, Delhi, on Monday.
The defence minister said the state had achieved progress.
"I have been visiting Arunachal since 1984. This time, I was thrilled to visit the state on its silver jubilee of attaining statehood," he said.
India and China have been locked in a long-running dispute over their Himalayan border.
Numerous rounds of border talks have been held to try to resolve the issues.
Last November, China's ambassador to India became involved in a heated exchange over a map that showed parts of India within China's border.