India 'not to succumb to Italy pressure'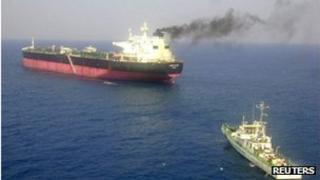 India will "not succumb to pressures from Italy" over an investigation into the fatal shooting of two fishermen by an Italian navy security team, a minister has said.
Defence Minister AK Antony said the probe was "moving in the right direction".
A court has remanded two members of the Italian team in custody for two weeks.
The incident off India's southern coast has sparked a major diplomatic row between the two countries.
Indian police have opened a murder inquiry into the incident, which took place off the coast of Kerala state earlier this month.
Italian officials said the Indian fishing boat had behaved aggressively and ignored warning shots from their ship, the oil tanker MV Enrica Lexie.
They said they opened fire after mistaking the fishermen for pirates. India said the fishermen were unarmed.
'Fair trial'
"The probe is in the right direction and we are not going to succumb to the pressures from Italy," Defence Minister AK Antony said on Sunday, after visiting the family of the dead fishermen.
"The Indian judiciary is independent and they can rightfully expect a fair trial here."
Mr Antony said the state government of Kerala had been "handling the case very strongly and powerfully".
"It has full support [from the federal government] for pursuing the case," he said.
Last week, a court sent the Italian marines - identified as Massimiliano Latorre and Salvatore Girone - to judicial custody for 14 days.
Italy insists that its personnel cannot be charged under Indian law. It says the marines have immunity as the tanker was flying an Italian flag and was in international waters when the incident happened.
But India wants the marines to be tried under local laws and has registered a case of murder against the men, who could face the death penalty or life imprisonment if found guilty.
The Enrica Lexie was on its way from Singapore to Egypt, with a crew of 34, including 19 Indians. The Italians say the crew members were acting in self-defence by firing warning shots - because they feared their vessel was about to be attacked.
The Kerala state government has authorised a payment of 500,000 rupees ($10,125; £6,450) each to the dead fishermen's families.
Piracy has emerged as a major threat to merchant ships in the Indian Ocean and the Arabian Sea, with Somali pirates hijacking ships and their crews for ransom.
But there have been fewer attacks recently, partly because more armed guards are now deployed on board ships.