India PM Manmohan Singh blames anti-nuclear protests on US NGOs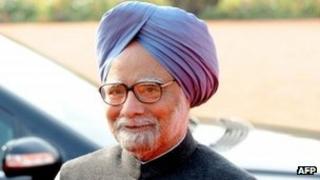 The Indian prime minister has blamed US non-governmental organisations for the delay in commissioning the Koodankulam nuclear plant in Tamil Nadu state.
Manmohan Singh told the prestigious Science journal that these groups did not appreciate India's growing energy requirements.
The plant has been stalled by protests from local people over safety concerns.
Mr Singh also blamed US and Scandinavian groups for opposing genetically modified crops in India.
Critics say Mr Singh's comments hark back to the pre-liberalisation days when Indian politicians blamed all of India's problems on foreign countries.
"You know what's happening in Koodankulam," Mr Singh said, referring to months of protests which have stalled the commissioning of two 1,000-MW nuclear reactors at the plant in Tirunalveli district.
"The atomic energy programme has gone into difficulties because these NGOs [non-governmental organisations], mostly I think based in the United States, don't appreciate the need for our country to increase the energy supply."
Referring to a 2010 government decision to defer the commercial cultivation of the genetically modified vegetable BT brinjal, Mr Singh said biotechnology had enormous potential and India must make use of it to increase agricultural produce.
"But there are controversies. There are NGOs, often funded from the United States and the Scandinavian countries, which are not fully appreciative of the development challenges that our country faces.
"But we are a democracy, we are not like China," he said.