Bollywood's Saif Ali Khan says acted in self-defence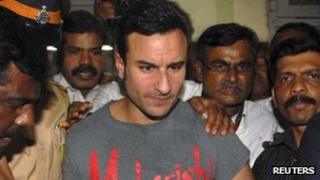 Top Bollywood actor Saif Ali Khan has defended charges of assault against him and said he acted in self-defence.
The actor said he had been hit and "verbally abused" first during the "ugly incident" at a five-star hotel on Tuesday night.
On Wednesday, police registered a case against the actor for allegedly assaulting a South African businessman.
Late Wednesday night, Khan was arrested and immediately released on bail after paying 15,000 rupees ($304; £194).
The incident took place when Khan was dining with actress girlfriend Kareena Kapoor and several other people at a restaurant at the Taj Hotel.
The hugely popular Bollywood couple have been dubbed Saifeena by the paparazzi.
Police said the businessman, Iqbal Sharma, was treated in hospital for a broken nose.
'False allegations'
"I was hit first. I acted in self-defence," the actor told reporters outside his Mumbai residence early Thursday morning.
"I am a law-abiding citizen. All allegations against me are false and justice will be done," he said.
The actor said the situation could have been handled differently.
"I could have reacted differently. I could have been a little more Gandhian in my approach. But I'm afraid I reacted in a way any gentleman would have reacted.
"But I'm not proud of what happened. It could have been handled differently. I should have set a better example. I'm sorry that I reacted this way," he said.
Khan has filed a counter complaint against Mr Sharma claiming that he was punched in the eye.
On his part, Iqbal Sharma told reporters: "We will pursue this to the full extent of the law and we will look at civil case options."
"The fight started after the businessman, who was sitting on the next table, told the actor and his companions to tone down their volume," a senior police officer told reporters on Wednesday.
He said a case of assault had been registered against the star and an investigation had begun.
This is the second case of assault against the actor - in 2008 he was accused of assaulting a journalist.
Khan has acted in more than 40 movies and won acclaim for Omkara, a Bollywood version of William Shakespeare's Othello.
His much-awaited film Agent Vinod, with girlfriend Kareena, is due to hit the screen on 23 March.
He is the son of former Indian cricket captain Mansur Ali Khan Pataudi and Sharmila Tagore, a former actress.
Recently, Bollywood superstar Shah Rukh Khan was also accused of assault by a filmmaker at a party.
Shirish Kunder said Khan was "drunk" and pushed him and pulled his hair.
Later, Kunder said he had a "heart-to-heart chat" with Khan and they had "resolved all misunderstandings".