India's homemakers recruited as hotel chefs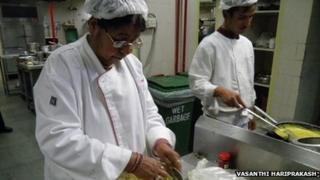 A new breed of chefs is taking over hotel kitchens in India. Housewives and mothers are now being recruited to bring "home-cooked" food to five-star plates, as Vasanthi Hariprakash reports from Bangalore.
As I finish my lunch at a restaurant in the city-centre, I reach for the dessert that the steward has recommended.
It turns out to be "obbattu", a sweet usually made in south Indian homes during festivals and not often seen on upscale hotel menus.
The "flat, wafer-thin chappati with a mix of jaggery and dried coconut, fried gently on a skillet" melts in my mouth and feels light and wholesome - like your mum made it for you.
The irregular shape of the obbattu, unlike the perfect round a chef would have produced, is a clear giveaway.
At Bangalore's Gateway Hotel, a homemaker has put on the chef's apron. It is a conscious strategy to woo upwardly-mobile clients who "typically crave home food", executive chef Naren Thimmaiah says.
"Our guests are increasingly aware of fresh healthy food they ought to eat, but in the midst of their jobs, travel and meetings, they have no time to do that," chef Thimmaiah says.
'Foreign Veggies'
So, a couple of years ago, Naren and his team came up with a menu that would put healthier food on their tables.
And who better to bring in as experts than those who have been making it for years and serving it up with love?
Twenty-two women, once queens in their own kitchens, are now working in the kitchens of the Gateway Hotels' group across India.
From cities like Bangalore, Chennai (formerly Madras) and Vadodara to smaller towns like Khajuraho and Coonoor, these homemakers are now the speciality chefs.
These are women who hold no degrees or qualifications in hotel management, but are trained by life to cook tasty, appetising food, quickly and without fuss.
One of these is 30-year-old Jyoti, mother of two, whose schooling stopped at the fourth grade.
Her specialities - akki rotti (griddle-cooked rice pancakes) eaten with maamsdha saaru (a spicy broth cooked with mutton or chicken, or optionally green leaves for vegetarians) - are rated top grade by not just the guests but colleagues in the kitchen.
"I love the obbattu that akka [sister] makes", Vipin Rajesh tells us as he stands next to the domestic gas stove and small utensils that were specially brought in to make Jyoti "feel at home".
Jyoti is not overwhelmed by the sophisticated high-end kitchen equipment around her.
"But some of the vegetables they use here I had never seen before in my life," she says.
The broccoli, artichokes and courgettes that chefs commonly use for continental dishes are "foreign veggies" for Indian cuisine.
Naren says it was a priority when he selected Jyoti for the job - that what she cooks "should not taste commercial".
'Just right'
Thousands of miles away, the Gateway's kitchen at the tourist town of Khajuraho in central India has been home for a month now to 62-year-old Santosh Pataria.
Otherwise a poet, writer and folk singer at the local radio station, Santosh has been brought in for her expertise in the local Bundelkhandi cuisine.
At an age when many people retire from their daily jobs, taking on a new job cooking the food known for its subtle flavour and mild use of spices comes naturally to Santosh.
"Our cuisine doesn't have too much mirch-masala (spice). I believe food should neither be too hot, nor too tangy. It should taste just right," says Santosh.
That "just right" cooking is bringing in the compliments.
Like those from a group of visiting tourists who sent a note into the kitchen asking for the recipe of the rare delicacy, mahue ki doobri, that she had made with mahua (a type of fragrant fruit used mainly for its medicinal properties).
Confidence
In the picture-pretty hill station of Coonoor in the southern state of Tamil Nadu, 51-year-old Indira is busy making the signature dishes of her community, the Badagas.
Indira, a single woman in her first job, says her family has kept the traditions of their centuries-old Badaga cuisine.
Whether it is avarai uttakka - local beans cooked with potato, tomato, onions, garlic and tempered with mustard seeds, or sandagai - roasted tomato sauteed with small onion, garlic and coconut ground to a fine paste - the "masala made carefully after dry-roasting 17 spices and not bought off the shops" is the key, Indira says.
She has the confidence of a professional chef who has fed a president's entourage.
It is perhaps this passion blended with cool confidence that makes these homemaker-chefs a draw at the dining tables.
However, all of them say the money could be better. Pay ranges from 5-8,000 rupees ($100-162, £64-102) a month and there are no benefits.
For now, the guests are only too happy getting comfort food on a platter.
Sahil Saraf, a doctor by profession, and a regular at the Gateway Bangalore, has no idea who is behind it all.
"I heard somebody's wife comes to cook here. All I know is that the food tastes yum," he says.
Award winning chef Naren Thimmaiah has the last word: "We can dish out the most exotic of cuisine, but ultimately simple, homely food is what will win the guest's heart."