India railway failings 'like massacre'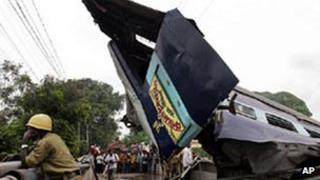 Lax safety standards on India's railway lines have caused thousands of deaths, a government committee has said, calling the deaths a "massacre".
The committee said 15,000 people are killed by trains every year trying to cross tracks that are not fenced off.
Almost half of the deaths occur in Mumbai, where the report said there were not enough pedestrian crossings.
The report criticised state-owned railway network India Railways for failing to implement safety measures.
It called for urgent investment to prevent the "unacceptable massacre".
The BBC's Rajesh Joshi in Delhi says that the report has come down heavily on Indian Railways. It argues that no civilised society can accept such high casualty levels.
The group of experts on the committee noted that Indian Railways is reluctant to acknowledge the deaths as train accidents.
But it has emphasised they were accidents and that they were caused by trains.
The government appointed the group of experts to review railway safety measures in the face of a growing number of casualties in recent years.
The committee, headed by one of the country's foremost scientists, Anil Kakodkar, says people cross railway tracks unlawfully because there are not enough foot bridges provided.
Another contributory factor is inadequate fencing adjacent to the tracks.
The committee has recommended that a high-level task force - involving state governments and non-governmental organisations (NGOs) - should be set up to address the issue.