Millions of children in Indian capital to be dewormed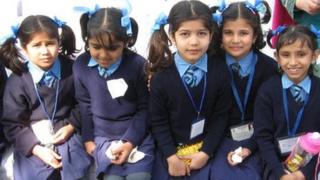 A campaign has been launched to deworm millions of children in the Indian capital, Delhi.
Chief Minister Sheila Dikshit kicked off the programme by giving deworming tablets to 50 children on Monday.
On Tuesday, up to 4 million children, aged two to 17, will get the tablets at government schools and health centres.
The campaign, launched in collaboration with Deworm the World, follows a study that shows that 16% children in Delhi are infected by worms.
'Worm free'
"We found that many children were suffering from anaemia and they had worm infestation," Delhi Health Minister AK Walia told the BBC.
"All of them will be given tablets, which they have to chew. And that will be repeated after six months so all the children will be worm free," he said.
To publicise the programme, public service advertisements have been played on radio and published in newspapers.
Officials say they are targeting 4 million children in government schools, city slums and other poor areas.
The government hopes that this will address the problem of anaemia, malnutrition and low physical and mental development suffered by children who have worms.
"We have deployed several teams of doctors to supervise and monitor the programme," Mr Walia said.
Teachers and government health workers have been trained by the international organisation, Deworm The World.
"We've also supplied the pills to various locations for the campaign," said Sriram Raghavan of Deworm The World.
He said a similar project in Bihar, just over six months ago, had de-wormed 17 million children.