India aviation watchdog summons Kingfisher officials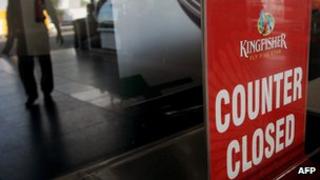 Indian aviation authorities have summoned top officials at Kingfisher Airlines to account for three consecutive days of disruption.
The airline has cancelled more than 100 flights in the past two days, leaving hundreds of passengers stranded.
The carrier has been facing cash flow problems that have led to flights being cancelled and staff leaving the firm.
It says high fuel costs and a weak rupee have hit earnings.
The Directorate General of Civil Aviation has asked senior officials of the airline, including Chief Executive Officer Sanjay Aggarwal, to appear before it on Tuesday to explain the cancellations, Press Trust of India reported.
The airline cancelled more than 20 flights on Monday, while about 80 flights did not operate on Sunday, reports said.
The airline said a curtailment in its flight schedule would continue for the next four days.
"We will operate the full schedule on our booking system within the next four days," the airline said in a statement over the weekend.
It also said some of the flights were cancelled because birds had hit planes.
'Substantial losses'
Meanwhile, Civil Aviation Minister Ajit Singh has said that the government would not bail out the airline.
"The government is not going to ask banks or private industry for that matter," he told reporters in Delhi on Monday.
Last week, the airline announced that its losses had widened by 75% in the October-December quarter, raising fresh concerns about the future of the troubled carrier.
The airline made a loss of 4.44bn rupees ($90m; £57m) during that period, compared with 2.54bn rupees a year earlier.
"The company has incurred substantial losses and its net worth has been eroded," Kingfisher said in a statement.
The latest numbers fanned fears about the future of the airline, which has been finding it increasingly difficult to raise fresh funds.
Last month, Kingfisher said it was in talks with a Hong Kong-based company, SC Lowy Financial, for a possible investment to ease its cash flow situation.
Kingfisher has already shut down its budget carrier in a bid to streamline its operations. The company has never made a profit since it was launched in 2005.