Kerala Padmanabhaswamy temple inventory begins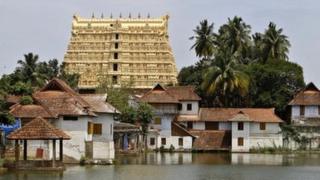 Officials in India have begun a digital inventory of priceless treasures unearthed from vaults in the Sree Padmanabhaswamy temple.
Five vaults at the temple in Kerala were opened last year. Their contents are said to include a vast collection of precious stones, gold and silver.
A court has ordered the sixth vault to remain closed until the contents of the first five are digitised.
Security is tight at the temple, now one of the richest in the world.
The contents of five vaults are believed to be worth 900bn rupees (£12bn; $20bn).
Reports say a specially-developed device for the digital archiving of temple antiques and artefacts will be used from Monday to document the treasure.
Experts on gems, coins, gold and antiques are expected to participate in the documentation. Historians say assessing the treasure's value will be very hard.
Rituals continue
The process is expected to take several months to complete since the details of every artefact needs to be digitally documented.
Officials said all rituals at the temple would continue unhindered and devotees would be allowed in as usual.
Last week, a panel conducted a trial run of the digitisation process, which proved to be a success.
The team members, headed by M Velayudhan Nair, are to enter the temple dressed in clothes provided by the panel to ensure temple traditions were not compromised.
They will not not be allowed to wear ornaments and a security drill would help prevent any loss of valuables.
Descendants of the Travancore royal family are the custodians of the temple.
Local legend has long held that vast riches were interred in the walls and vaults of the temple by the Maharajas of Travancore over many years.
Neither the state of Kerala nor the descendants of the Travancore royal family have made any claim on the treasure, which they say is the property of the temple and its deity.
But the discovery has sparked a public debate, with many believing the items should be put in museums or sold and the profits used for public good.