Indian parents in custody row with Norway meet children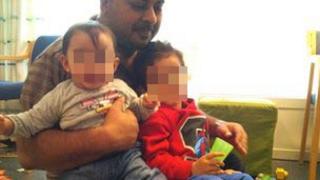 An Indian couple in a child custody case in Norway have seen their children for the first time in three months.
Anurup and Sagarika Bhattacharya were allowed to spend a couple of hours with their children in the presence of social workers.
The children, aged three and one, were put into foster care last May after child services said the parents were not taking proper care of them.
The parents deny this and say "cultural differences" led to the situation.
The case has received a lot of attention in India and last month the Indian government intervened to find a quick solution to the dispute.
"The process is moving in a positive direction", the couple's lawyer Svein Kjetil told AFP news agency.
They are hoping for a final decision by the middle of March as to whether the children will be allowed to return to India in the custody of their uncle, he added.
The parents said there were "cultural differences" the authorities took exception to, including sleeping with the children and feeding them by hand.
Norway's child welfare denied this, saying it only intervened when the children's safety was at risk.
The Indian government has told Norway that the children are being deprived of the benefits of being brought up in their own cultural and linguistic environment and it was important they should return to India as soon as possible.