Olympic body: Dow not to blame for India gas tragedy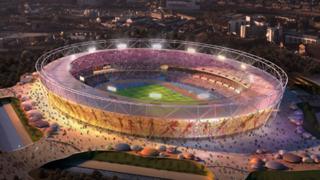 The International Olympic Committee (IOC) has told Indian Olympics officials that Dow Chemical was not responsible for the 1984 Bhopal gas tragedy in any way.
The IOC said it appreciated the Indian Olympic Association's (IOA) concern for the victims.
But it added that Dow had no ownership stake in Union Carbide till 2000.
Campaigners say the gas leak killed some 25,000 people. Dow is a top-tier sponsor for the London 2012 Olympics.
The company merged with the Union Carbide Corporation - whose subsidiary Union Carbide India ran the Bhopal pesticide plant - in 1999 and denies any liability for the chemical gas leak.
As well as its sponsorship deal, the US-based company is funding a £7m ($11m) fabric wrap for the Olympic stadium in east London, which will be 900m (0.56 miles) long and 20m (67ft) high.
Indian NGOs working with the survivors of the gas leak and the IOA have repeatedly demanded that Dow Chemical should be dropped as one of the sponsors for the Olympics.
A commissioner for a body monitoring the Olympics recently resigned over its links with Dow.
'No connection'
"The IOC recognises that the Bhopal tragedy was a horrific event for India and the world," IOC chief Jacques Rogge said in a letter to IOA acting president Vijay Kumar Malhotra.
"The Olympic Movement sympathises with the grief of the victims' families and regrets the ongoing suffering people face in the region."
"The IOC and London Organising Committee for the Olympic and Paralympic Games were aware of the Bhopal tragedy when discussing the partnership with Dow.
"Dow had no connection with the Bhopal tragedy. Dow did not have any ownership stake in Union Carbide until 16 years after the accident and 12 years after the $470m compensation agreement was approved by the Indian Supreme Court."
The IOC letter added that partnerships for the London event were only formed with organisations that work "in accordance with the values of the Olympic movement".
"Dow is a global leader in its field of business and is committed to good corporate citizenship. The company has supported the Olympic Movement for over 30 years... bringing industry-leading expertise and innovation to the Games," it stated.
But Mr Malhotra said the IOA was not convinced by the IOC's stand: "We think that the IOC should understand and appreciate the feelings and sentiments of the victims and drop Dow as a sponsor."
Some politicians in the UK and India say Dow is liable for the ongoing fallout of the 1984 chemical gas leak in Bhopal.
But despite the furore over its involvement, Dow has consistently said it would not withdraw its Olympic sponsorship.