India gives polio drops to Pakistani children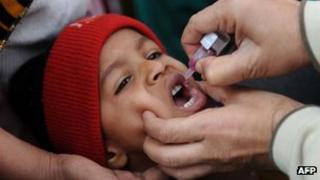 Health authorities in the Indian state of Rajasthan are giving polio drops to children leaving from or arriving at the Munabao railway station on the border with Pakistan.
The drive was launched after more than 175 cases of polio were reported in Pakistan, officials said.
India has been free of new cases of polio for a year.
Munabao is the last station on the Indian side from where the Thar Express crosses into Pakistan every week.
The Thar Express resumed its operation on 18 February 2006 after a gap of 41 years.
The train connects the Pakistani city of Karachi with Jodhpur in Rajasthan.
"Every Saturday, our team is deployed at the station and it administers polio drops to every child below five years," chief medical officer for Barmer district Ajmal Hussain told the BBC.
"The team comprises a doctor, a nurse and a technical person. We want to ensure that polio does not come into the Indian side."
Mr Hussain said Indian children travelling to Pakistan were also covered by this programme. "We administer drops to around 20 children every week," he said.
In January, India declared that it had been free of new cases of polio for a year, putting it on track to end its status as a country where the virus is endemic.
India was once seen as a polio epicentre, the country where the virus was most difficult to tackle.
Its neighbour, Pakistan and Afghanistan, are among the only three polio-endemic countries in the world.
If India manages to go for three years without seeing a new case, the whole south-east Asian region, which excludes Pakistan and Afghanistan, will be declared polio-free for the first time.