Jet Airways suspends pilot for 'trainee landing'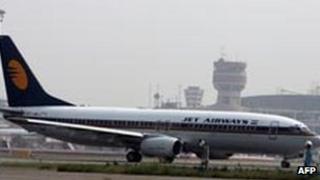 India's private airline Jet Airways has suspended a pilot and a crew member for allowing a trainee pilot to land a plane in the western city of Mumbai.
The two apparently allowed a trainee pilot to take over from the co-pilot and land the plane about four months ago, reports say.
Jet Airways said action had been taken based on "appropriate investigations and a confidential report".
Jet Airways is one of India's best-known and oldest private airlines.
Reports say that the pilot was suspended for two-and-a-half months following the incident, and had resumed flying.
A spokesman for the airline told the Press Trust Of India news agency that they had been in talks with the aviation regulator DGCA over the incident.
"They are completely satisfied with the steps taken. In line with international practises on enforcing safety, a voluntary and confidential reporting system exists in Jet Airways for all its employees," the spokesman said.
Last month a consumer court in Delhi ordered Jet Airways to compensate a female passenger who was refused an alcoholic drink because of her gender.