Can Manchester United football school score in India?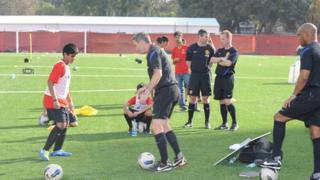 One of the English Premier League's top football clubs, Manchester United, has opened its first training school in India. Zubair Ahmed reports from Mumbai on what the club hopes to achieve through the school.
A clutch of young boys and girls are hugging different parts of the "world class" green turf and going through the meticulously worked out afternoon practice session.
A coach shouts instructions: "Dribble Alastair, dribble."
Alastair is huffing and puffing while trying to dribble the ball past other players.
Everyone is learning the art of dribbling at Mumbai's footballing hub, the Cooperage, which is going through a complete makeover.
A brand new natural grass pitch, donated by football's world governing body Fifa, has already been laid out.
It is where Manchester United have chosen to open their first football school in India.
'Why cricket-mad India?'
It's midday and the sun beats down on the trainees, but that fails to diminish their enthusiasm.
They believe they might be the answer to India's appalling standard in international football.
Alastair Fernandes is one of the nearly 300 trainees at Manchester United's school in Mumbai, launched last month.
A trainee has to cough up 12,600 rupees ($256; £162) for a course of 10 sessions.
The high fee prices out working-class children, so not surprisingly, most trainees are urban middle- or upper-middle-class boys and girls.
But no one is complaining, as the demand for quality training is high in the city. There are hardly any football academies of international standards.
Alastair is one of the youngest but also one of the most ambitious trainees. His dream is to play like Manchester United players, Nani and Valencia.
"When I grow up I want to play for Manchester United," says Alastair with a heavy emphasis on the English club he loves.
Many of the boys training here want to represent big football clubs and not necessarily their country.
India may be a country of over one billion people but in football it ranks 157th in the world.
And yet Manchester United, one of the world's leading football clubs, has chosen to open a school in cricket-mad India. Why?
"We have fans all over the world. We are a global football club. We need to reach out to our fan base worldwide. India is a perfect example where we are bringing Manchester United from Manchester all the way to India," replies Chris O'Brien, the school's head coach.
To demonstrate that Manchester United means business, Mr O'Brien was sent over to Mumbai by his bosses at Old Trafford (Manchester United's home ground and headquarters) to teach the school's young recruits some deft touches and techniques.
Huge potential
Besides Manchester United - Liverpool, Chelsea and Arsenal have also explored tie-ups with local partners.
Some European football clubs, such as Bayern Munich and Real Madrid, have also been showing a keen interest in the Indian market.
Experts say merchandise is a big driving force for these clubs to come to India which is perhaps one of the last untapped markets.
A couple of years ago, the UK-India Business Council hosted a seminar on bringing European sports to India.
Adidas' head of global sports marketing, Jocelyn Robiot, estimated that the sportswear market in India was nearly $500m (£316m).
Football is becoming increasingly popular in India. Marketing experts say after cricket, football is the second most popular sport and has a huge following among the urban youth.
Several European football clubs have sent talent scouts to India in the last few years.
Nearly all of them have come to the conclusion that cricket cannot be replaced but there is a huge potential for football's growth in the near future.
"The way Indians are consuming football, specially the English Premier League in urban India, one day football will be neck and neck with cricket," says Mukul Choudhari, the Manchester United Soccer School's director.
So, do European clubs just want a token presence in India right now? Or do they have long-term plans to develop and raise the standard of the game in India?
Mr O'Brien makes it clear his club's goal in India is not to hunt for talent but to teach kids at the grassroots level how to play football the Manchester United way.
"Our philosophy is to work with players of all abilities. It's not a talent identification exercise. It's about bringing Manchester United to all young players all across the country, no matter what level they play at," insists Mr O'Brien.
Manchester United has a few cafes and sports stores in the country in partnership with Indian companies.
But the Mumbai soccer school is just the beginning of a long association.
"We are not here just for a couple of weeks. We are here to develop the game at the grassroots level. It's a long-term initiative," Mr O'Brien says.