Is Uttar Pradesh experiencing a democratic upsurge?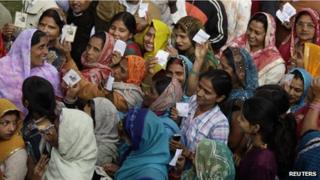 Has India's most populous state of Uttar Pradesh seen an unprecedented democratic upsurge?
Election officials believe so. They say that a record 62% turnout in the first phase of the seven-phase vote on Wednesday is the highest since 1947, up from a dismal average of 46% in the 2007 polls. "It rains votes in Uttar Pradesh," said a clever headline in The Hindu newspaper.
Many political scientists are not so sure.
India's top psephologist, Yogendra Yadav, believes that the high turnout could possibly be linked to something as prosaic as the correction of a "highly defective" voter list - the deletion of people who have died or migrated outside the state, and the inclusion of new voters.
The assumption is that 46 out of 100 people voted in the 2007 elections.
What happens when the voter list does not exclude voters who do not exist or include eligible new voters who do? In effect, you have 46 out of 80 or 90 registered voters who are alive, eligible and turn up at polling stations. You still show a 46% turnout, whereas 46 out of 80 or 90 voters would actually work out at more than 50% turnout.
So is the media brouhaha over the deepening of democracy in Uttar Pradesh justified?
Mr Yadav is again not very sure.
"There could be a minor genuine uptick in participation. We still don't have adequate information to compute these two elements - the actual participation of voters, and the deletion of 'false' voters and inclusion of new ones," he says. In the past two years, more than 17 million new voters have been added to the voter list in Uttar Pradesh.
In states like Uttar Pradesh and Bihar which are hobbled by administrative apathy and ineptitude, faulty voter lists may have thrown up low turnouts for years. With election authorities cleaning up the lists and enrolling more voters, turnouts are beginning to look healthy.
Other experts I spoke to do not entirely agree with Mr Yadav's thesis.
They believe that the dramatic "rise" in voting in Uttar Pradesh is a significant development and is related to the political empowerment of the lower castes since the early 1990s. They point to how voter turnouts in southern Indian states like Tamil Nadu climbed to over 60% on the back of greater electoral participation by lower castes and the strengthening of democracy since the late 1960s.
However, that still does not explain why Uttar Pradesh was stuck with a lowly 46% turnout until the 2007 polls.
So who gains from the higher turnout?
In India, conventional political logic says that a high turnout of voters usually goes against the ruling party. In addition, cadre-based parties (BJP, Communists) do well when there is low polling, and consensus-based parties (Congress) do well when there is high polling, the argument goes.
By that logic the high polling should hurt the prospects of the ruling Bahujan Samaj Party (BSP) government led by the Dalit icon Mayawati, and help the main opposition regional Samajwadi Party, Congress and even the Hindu nationalist BJP.
But predicting any result in Uttar Pradesh is fiendishly tricky. Many believe that the Uttar Pradesh polls will not throw up a clear winner, despite the so-called "raining of votes".
Or, as Yogendra Yadav says, first we have to be sure whether it really is raining votes in Uttar Pradesh.