Will 'Dalit queen' Mayawati win again in Uttar Pradesh?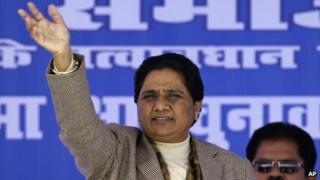 With crucial assembly elections getting under way in India's Uttar Pradesh state on Wednesday, the BBC's Geeta Pandey in Sitapur assesses the chances of Mayawati, its enigmatic chief minister.
At the State Inter College Ground in Sitapur, about 100km (62 miles) from the state capital, Lucknow, a crowd of about 10,000 people have gathered for Chief Minister Mayawati's first election rally in the state.
As her helicopter circles overhead, the waiting crowd gets visibly excited. Many of them stand up and wave their arms, some begin clapping, and leaders of her Bahujan Samaj Party (BSP) begin shouting slogans of "Long live Mayawati".
The front enclosures are reserved for women and among them is Mahajanna.
Mahajanna is a low-caste Dalit - formerly untouchables. Ms Mayawati - a former schoolteacher - is a Dalit herself and an icon to hundreds of millions in her community.
Minutes before Ms Mayawati arrives on the stage, a tearful Mahajanna narrates her tale of woes.
"I am 70 years old and I have no family. I am all alone in this world. I have come here with a lot of hope that I will get some help from Behenji (the Big Sister as the chief minister is affectionately called)," she says.
Mahajanna is among the poorest of the poor and has a "below poverty line" card which entitles her to subsidised grain, sugar and kerosene.
"But I never get anything," she says.
Mahajanna doesn't blame Ms Mayawati, who has ruled the state for the past seven years, for her wretched existence.
"She wants to do a lot for us, she wants to give us a lot of benefits, but it's the middlemen who take it all away," she says, wiping her tears.
In this mostly feudal, male-dominated, agrarian state, where caste is the main identity, Mayawati - often called the "Dalit queen" - has managed to climb up from the bottom of the social ladder and stay at the top.
In the last assembly elections in 2007, she silenced her critics when her Bahujan Samaj Party (BSP) won 206 seats in the 403-member assembly.
"She is very bold. To emerge as the leader of Uttar Pradesh is no joke," says Prof Ajit Kumar Singh, director of the Giri Institute of Development Studies in Lucknow.
"She has tremendous leadership qualities and organisational capacity. She is a great strategy maker."
Statues dispute
Mayawati's importance cannot be overestimated - she rules over the 200 million plus people of the state - which equals Brazil in population - and is counted among the most powerful women in the world.
But recently, her image has taken a beating: the government has been beset by serious corruption charges against many of her ministers and she has been criticised for favouring a handful of industrialists.
In the run up to the elections, Mayawati sacked 26 ministers and changed 100 party candidates - steps that critics say have come too late.
But perhaps her biggest criticism has been over the massive pink marble-and-sandstone memorials to Dalit icons in Lucknow and Noida (near Delhi) which never fail to stay out of the news for long for their sheer size and scale and the billions of rupees spent on building them.
In the run up to the polls, the Election Commission forced the state government to cover the statues of the chief minister and her party symbol - the elephant - and shut some of the parks.
Her image has also been dented by Wikileaks allegations last year that she sent an empty plane to Mumbai to fetch her favourite pair of shoes. This in a state where 56 million people earn less than $1 a day and more than 300,000 go to bed hungry.
But if Mayawati seemed worried about any of this criticism, she did not show it at her rally in Sitapur.
As she took on her political rivals in a bombastic speech, accusing them of playing divisive politics for narrow gains, her supporters clapped and cheered enthusiastically.
"She's so magnificently manipulative, it's not okay with the times we live in, but in the feudal system we live in, she's answered feudalism with double feudalism," says journalist Ashwini Bhatnagar, who is writing a biography of Mayawati.
"Everything she does is like making a statement - she comes surrounded by elite commandos, in huge convoys and flies in in a helicopter.
"She is totally unapologetic about her parks and statues, through them she wants to leave a solid impression, she calls them smriti chinhs (signs of the times). She's looking at something that will last at least 300 years."
Bhatnagar says "her public image may have been dented due to criticism from the chattering classes, but it hasn't made any difference to her core voter".
Slipping support
In Amethi, a little township on the edge of Lucknow, the small settlement of Dalits brushes off any criticism of the chief minister.
"If I have four sons, can I keep them all happy at all times?" asks Rampal Kuril.
For Sonu Verma, the parks and statues are a matter of pride: "She's trying to turn Lucknow into London. People from all over the world come to see the parks."
Says Kuldeep Kumar: "In this state where caste is your identity, we were never treated like human beings. But now we live with our heads held high. We don't care that she spends money on building statues, whatever she does, we are with her."
In a state where politics is at best unpredictable, Mayawati is the first chief minister to complete a full five-year term in power in more than 50 years.
But few are betting any money on another win.
Under her leadership, the state's economy has grown at a decent 7%, but the nature of the growth has been inequitable and Prof Singh says that in rural areas the decline in poverty has slowed while urban poverty has increased.
"The poor," he says, "have become poorer, while the rich have become richer. She will suffer because of anti-incumbency."
The signs of her slipping support are nowhere more evident than at the Sitapur rally.
She finishes off her 50 minute speech by thanking "hundreds of thousands of supporters who have turned up enthusiastically for the rally".
The ground couldn't have held more than 10,000.