India election transfer 'not linked' to Gandhi incident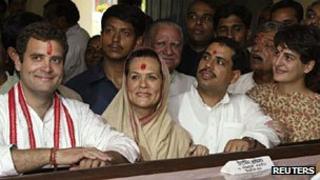 The Election Commission has denied the transfer of a poll official is linked to his role in halting a Gandhi family convoy in Uttar Pradesh state.
The convoy of motorcycles was led by the son-in-law of Congress party chief Sonia Gandhi during the current state election campaign.
Robert Vadra was stopped on Monday for "using more vehicles than the permitted number of 10".
The commission said the official's transfer to Goa was pre-planned.
But his transfer would now be delayed "to avoid misinterpretation", it said.
The vote is being held in seven phases, with the first round on 8 February.
Uttar Pradesh has a population of 200 million, similar to that of Brazil. More than 100 million people are eligible to vote in 403 assembly seats.
'Baseless'
Mr Vadra's wife, Priyanka Gandhi, and brother-in-law Rahul Gandhi have been campaigning in the state.
The Election Commission denied reports linking the poll official's transfer to his role in stopping Mr Vadra's convoy.
It said in a statement: "This decision has been baselessly linked to certain enforcement action taken by the particular officer in his capacity as an election observer in an incident involving Shri Robert Vadra.
"The officer acted in accordance with the law. The decision to post Shri Sen as the district election officer in South Goa was in process for a week, based on the need to replace the present DEO in that district... Sen was found most suitable for the post."
Pawan Sen had reportedly ordered the filing of a police report against the local Congress candidate over the convoy incident.
Chief election commissioner SY Quraishi also told the Press Trust of India that the transfer had "nothing to do" with the Vadra incident.
He added that "to avoid misinterpretation by some mischievous people, we have since kept on hold his transfer. He will be relieved from his election observer duty only after the polls are over on February 19".
Mr Vadra, who is a businessman, later told the NDTV news channel that he was campaigning in Uttar Pradesh "to help [brother-in-law] Rahul Gandhi".
Asked whether he was interested in joining politics, Mr Vadra said: "Politics requires full focus... But also being associated with a political family I can't sideline it or, you know, run away from it."