Telecoms firm Uninor 'unfairly harmed' by India ruling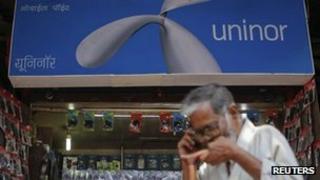 Uninor, the Indian partner of Norway's telecoms company Telenor, says it has been "unfairly harmed" by a ruling cancelling licences issued in 2008.
Managing director Sigve Brekke said he was "angry and upset" by the Supreme Court's decision.
He said the company would "do its best" to rebid, but added: "Of course, exit is also an option."
Last week, the Supreme Court cancelled 122 licences issued by former minister A Raja, who is accused of fraud.
Mr Raja denies any wrongdoing.
The awarding of licences has been called India's biggest corruption scandal. Government auditors say it cost the country about $40bn (£24.5bn).
'Re-auction'
Mr Brekke said Uninor had invested billions of rupees in India and it was unfair to lose that money and "go home just because someone has changed their mind".
"This is going to impact foreign investments," he said.
Why would foreigners invest in India if they could not "trust the rules and conditions", Mr Brekke asked.
"If you ask me am I angry and am I upset, the answer is yes. I am angry and upset, because it's very clear that we are unfairly harmed.
"Despite that anger... we are not going to roll down and die."
Mr Brekke said Uninor would review the re-bidding process but insisted only companies stripped of licences should be allowed to bid.
He added: "If this does not work out, if there is no way we can make sense out of this, of course we need to look at exit as an option."
Telenor has 36 million customers in India who face losing their connection in four months.
But, the telecoms regulator says the affected subscribers can be transferred to other mobile operators.
India is one of the world's fastest growing markets for mobile telephones with 893 million connections.
Last week the Supreme Court asked the government to formulate new regulations to re-auction the licences.
The ruling has come as a major setback for the government, which has been hit by a series of corruption scandals in recent months.