Hopes high for Yuvraj Singh cancer recovery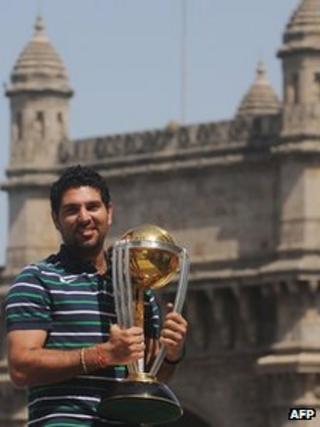 The cancer afflicting India cricketer Yuvraj Singh is curable, one of his doctors says, and the player could be back on the field by May.
Tests had revealed Yuvraj was suffering from a rare form of cancer called mediastinal seminoma and he is now undergoing chemotherapy in the US.
The growth is between his lungs but is not lung cancer.
Messages of support have been pouring in for Yuvraj, 30, with well-wishers urging him a speedy recovery.
Nikesh Rohatagi, from the Max Cancer Centre in Delhi, has been helping to treat Yuvraj. Dr Rohatagi said: "It is curable with the help of therapy and will not hinder Yuvraj's career in the long-term.
"It is located between the two lungs, rather than in the lungs. It's a rare disease but something which can be cured. I am confident he will be cured and return to cricket like before."
He added: "We are very lucky this is a seminoma... Most likely Yuvraj will be back on the field by the first week of May."
'Praying for you'
A day after reports of Yuvraj's chemotherapy hit the headlines, the micro-blogging site Twitter has been full of messages of support and sympathy from ordinary people as well as celebrities.
"Wish Yuvraj a speedy recovery. Asking officials to find the quantum and nature of help required. Government should and will help him," Mr Maken posted on Twitter on Monday.
India team mate Harbhajan Singh tweeted: "He is a born fighter. I request media to respect Yuvraj's privacy and allow him to concentrate on his recovery. He will be back with a bang."
"Shocked to learn Yuvraj Singh [is] down with cancer. Yuvraj if you read this, know that we all pray for you... All shall and will be well," tweeted Bollywood superstar Amitabh Bachchan.
Vijay Mallya, liquor baron and owner of the Bangalore team in the Indian Premier League, wrote on Twitter: "I am devastated to hear that my friend Yuvraj Singh has cancer. I pray to [Hindu god] Balaji that he recovers and is back in action."
Chief Minister of Indian-administered Jammu and Kashmir Omar Abdullah wrote: "Here's wishing Yuvraj Singh a speedy and complete recovery. On a good day there are few cricketers more exciting than him."
Gujarat's Chief Minister Narendra Modi also tweeted: "Sad to hear about ill-health of Yuvraj Singh. He is a fighter and am sure he'll come out of it very soon and play again for India."
Yuvraj's health first deteriorated during the World Cup last year, in which he was the man of the tournament, helping his country win the trophy for the first time since 1983.
At the 2011 World Cup, in India's match against Ireland, Yuvraj became the first player to take five wickets and score 50 runs in a World Cup match.
The left-hander, who has also played county cricket for Yorkshire, posted on his Twitter account last month that he would seek inspiration from Lance Armstrong, the cyclist who won multiple Tour de France titles after being treated for testicular cancer.
On Sunday, Yuvraj's physiotherapist, Jatin Chaudhary, said the cricketer had travelled to the US on 26 January.
"Thankfully no surgery is required, he is already a lot better than he was and he can't wait to be back on the cricket field."
In 2011, the cricketer had been diagnosed with a non-malignant tumour of the lung.