India state elections: Uttar Pradesh battles apathy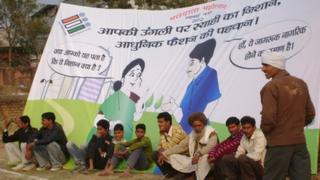 Vital assembly elections get under way on Wednesday in India's most populous state of Uttar Pradesh, which has traditionally seen very low voter turnouts. This time the election authorities are working hard to turn it around. The BBC's Geeta Pandey reports from Pokhraya village in Ramabai Nagar district.
Hundreds of people are watching a cricket match at a college ground on a mellow winter afternoon.
The spectators squat around the ground or perch on top of walls and roofs of adjoining buildings.
The commentator stirs the crowd as he explains every bowling and batting action. But this is no ordinary game.
The match is part of what officials here call the NPL (Nirvachan Premier League) - a take on the hugely popular IPL (Indian Premier League) cricket tournament. Nirvachan means election.
'Youth to booth'
The batting team is led by the most senior government official in the area, district magistrate Mayur Maheshwari.
"We have seen that, generally, a lot of young voters and a lot of women voters do not vote," Mr Maheshwari told the BBC.
"We want to make them aware through sports and culture that it's important to vote. And events like these are aimed at bringing the youth to the [election] booth," he says.
During breaks in the match, Mr Maheshwari goes around the field, telling the spectators why they must vote. He quizzes them about the forthcoming elections and the winners get yellow T-shirts as prizes.
The cricket match is just one of the events organised by the election authorities to try to motivate voters.
Uttar Pradesh is equal to Brazil in population, with more than 200 million people and 126 million eligible voters.
But in the last assembly elections, in 2007, the turnout was only 46%.
In one constituency, Allahabad city, only 24% of voters cast ballots.
The state's chief electoral officer, Umesh Sinha, says he is working to change that.
He says voter apathy is higher in urban areas, and that "in some rural areas the turnout has been better, at 55% to 60%".
In the capital city, Lucknow, massive posters and hoardings have been hoisted on every street corner, telling people that it is their prime duty as citizens to vote.
In villages and towns across the state, marathon races and street theatre have joined the cricket matches to try to attract voters to the booths.
Mr Sinha says college students have been involved in a campaign to motivate the neighbourhoods, even kindergarten students have been roped in to tell their parents and other elders at home to vote.
"We are telling people to spare just two minutes to vote - to strengthen democracy and to strengthen their country," Mr Sinha says.
'Great responsibility'
In the past two years, 17.3 million new voters have been added to the voter list; 5.4 million of them are 18- to 19-year-olds. This is a group the authorities are specifically targeting.
"We tell them that when they turn 18, they turn into a very important citizen of the country" Mr Sinha says.
"We tell them that their voter identity card is not just a means of getting them a bank account or a driving licence, we tell them that it is a symbol of this great responsibility that the country is giving them.
"We tell them that it is not just their right to vote, it's also their duty to vote."
The message appears at least to be reaching those on the cricket pitch in Pokhraya.
Shubham Bansal, 20, says events like the NPL are useful because "they inform us about the voting process".
"It's important to have a fair election. We have to choose our politicians and a new government which will make our future better and brighter. Our future depends on it, so we should go out and vote."
Rishabh Gaur, 19, says such events help spread awareness about the importance of elections.
He says many people choose not to vote because they think no candidate or party will fulfil their expectations.
But on 23 February, when Ramabai Nagar district votes, Rishabh says he will cast his ballot in the morning and "then I will tell all my friends to go and do the same".
Such statements are music to the ears of the election officials.
"I think people are eager and motivated. And I feel this time voting should set a new milestone and probably there will be a big jump in turnout," Mr Sinha says.