India train crash kills three in Assam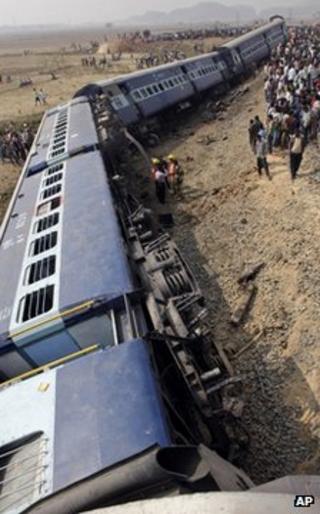 At least three people have been killed in a passenger train derailment in the north-eastern Indian state of Assam, officials say.
The Bongaigaon-Guwahati train hit a vehicle on the track and several carriages derailed.
Hospitals have been treating at least 50 passengers injured in the accident and rescue operations are continuing.
Train accidents in India have killed 1,220 people over the past five years, railway officials revealed recently.
The train reportedly hit a bulldozer that had got stuck on the tracks at an unmanned crossing.
At least 16 of the injured are said to be in a serious condition in the Guwahati Medical College and Hospital.
Friday morning's accident comes a day after Railway Minister Dinesh Trivedi described the state-owned railway network as "sick" and in urgent need of an overhaul.
The immense railway network connects every corner of the country, operating 9,000 passenger trains a day, carrying some 18 million people.
India has set up a special $3.6bn (£2.4bn) railway safety fund to make travelling safer for the more than six billion passengers who use the transport network every year.