Shocking story of a battered toddler
Soutik Biswas
Delhi correspondent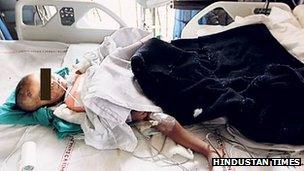 For close to two weeks, the distressing story of a two-year-old toddler has grabbed India's attention.
A teenage girl brought the battered toddler to a hospital in Delhi and left her there. Doctors found she had serious injuries - human bite marks all over her body, broken arms and a partially smashed head. They said they had not seen abuse of this level on such a small child. Nearly a fortnight after she was brought to the hospital, the toddler is on life support in the intensive care unit.
It is still not clear who the mother of the toddler is, and who assaulted her and why. Sketchy details emerging in the media suggest she was passed around by a number of women before she landed in the hands of a 14-year-old girl. The girl has reportedly told the police that she got the toddler from a married man, who had befriended her and lived with her.
The man, a taxi driver, apparently acquired the child from a woman and wanted to raise her. The story of the teenage girl, if reports are to be believed, is equally shocking. She has apparently told investigators that her parents beat her when she was a child and when she arrived in the city, a number of men raped her and she was forced into the sex trade.
We still do not know who the toddler's parents are, why she was abandoned and why she suffered such brutality.
The story is, sadly, not unusual and mirrors the neglect, abuse and social bias that girl children suffer in largely patriarchal India. India has one of the highest female infant mortality rates in the world. Unchecked illegal sex selection abortions have led to a skewed sex ratio - 112 boys are born for every 100 girls in India, against the natural sex ratio at birth of 105 boys for every 100 girls.
India's record on protecting its children is shoddy. Thousands go missing every year and it doesn't appear to be a major concern for the authorities. A report by Bachpan Bachao Andolan (BBA) found that 11 children go missing in India ever hour. The 2010 National Crime Records Bureau says 10,670 cases of kidnapping and abduction of children were reported during the year, up 19% over 2009. The majority of these children belong to poor, marginalised families living in slums and resettlement colonies.
Most of us believe that a nation that cannot protect its children is a failure. The least the authorities can do is declare war on gangs who kidnap and traffic in children. Six years ago, federal investigators told the Delhi High Court that there were more than 815 gangs, comprising more than 4,000 people, involved in kidnapping children for the sex trade, for begging or for ransom in India. Was there ever a crackdown on them? We still don't know.