Mumbai gunman Qasab appeals in India Supreme Court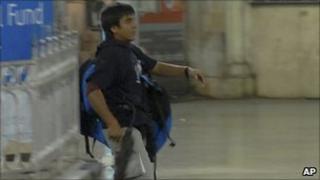 The sole surviving gunman from the 2008 Mumbai (Bombay) attacks has launched an appeal against his death sentence in India's Supreme Court.
Mohammad Ajmal Amir Qasab, 24, said he had been denied a fair trial and that the prosecution had failed to prove its case.
Qasab was convicted of murder and other crimes in May 2010 and his first appeal was rejected in February 2011.
The Mumbai attacks claimed 165 lives. Nine gunmen were also killed.
Qasab was found guilty in Mumbai on 3 May 2010 of murder, terrorist acts and waging war on India and was sentenced to death.
Presidency option
In the Supreme Court in the capital Delhi on Tuesday, the court-appointed lawyer for Qasab, Raju Ramachandran, read out a statement on behalf of his client.
"I have been wrongly held guilty because I was denied a fair trial. I was denied a counsel," the statement read.
"The prosecution has failed to prove beyond a reasonable doubt the charges against me.
"I may be guilty of killing people and carrying out a terrorist act but I am not guilty of waging war against the state."
Two judges are hearing the case in Delhi.
If Qasab loses his appeal, he can make a plea for clemency to the president.
Prosecutor Ujjwal Nikam told Agence France-Presse that capital punishment was required.
"This is the rarest of rare cases. He should not be entitled to any mercy."
Executions are rare in India. In most cases capital offences are commuted to life imprisonment.
The 60-hour siege of Mumbai began on 26 November 2008, targeting luxury hotels, the main railway station and a Jewish cultural centre.
Qasab and an accomplice carried out the assault on the station, killing 52 people.
India has blamed Pakistan-based militant group Lashkar-e-Taiba for the attacks.
After initial denials, Pakistan acknowledged that the assault had been partially planned on its territory and that Qasab was a Pakistani citizen.