Starbucks unveils plans for India stores with Tata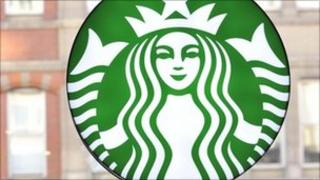 Starbucks has unveiled plans to open its first outlets in India.
The US coffee giant said the first coffee shops would open by September in a 50-50 joint venture with Tata Global Beverages.
The outlets are to be co-branded "Starbucks Coffee: A Tata Alliance", on an initial investment of 4bn rupees ($80m).
Starbucks currently operates more than 17,000 cafes, with about 6,000 of them in more than 50 nations outside the US.
Starbucks announced a reorganisation last year, creating a China and Asia Pacific division with the intention of opening in India.
Delhi and Mumbai will be the first Indian cities to see Starbucks stores.
John Culver, president of Starbucks China and Asia Pacific, said: "We're going to move as fast as possible in opening as many stores as we can so long as we are successful and so long as we are embraced by the Indian consumers."
The Tata group is a massive Indian conglomerate. Its Tata Coffee division will supply coffee to the joint venture.
Tough competition
Indian coffee sales are put at about $667m annually, with the organised market - mainly cafe sales - accounting for about $140m.
Cafe Coffee Day is the market leader in cafe outlets, followed by Barista and Costa Coffee, both of which have ambitious expansion plans.
Starbucks chief executive Howard Schultz has successfully turned around the company's fortunes since he returned to the top job in January 2008.
He closed under-performing outlets in the US, and extended the company into selling pre-packed coffee in supermarkets.