Indian cricket's end of an era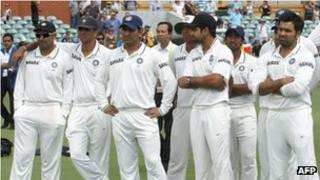 All good things have to come to an end - but the end in Adelaide over the weekend was brutal.
India were routed in an overseas cricket Test for the eighth time in a row - four by an innings and two by more than 290 runs. The team's fabled batting line-up, stuffed with ageing legends, lay in ruins, mowed down by a bunch of terrific young Australian speedsters. The Adelaide annihilation came on a flat track holding no terrors.
The last time Indian cricket went through a similar ordeal was back in the 1960s, when they lost 17 overseas games on the trot.
Adelaide marked, as cricket writer Sharda Ugra wrote in a fine epitaph, a funereal end to Indian cricket's greatest era. A "decade of progress was signed off with staggering paucity of performance".
India managed to pass 300 runs only twice in the past 16 Test innings in England and Australia. This from a team in which four batsmen - Tendulkar, Dravid, Laxman and Sehwag - have an incredible 45,611 runs between them. (It didn't help that their wayward bowlers picked up only 93 wickets in the two series, while England and Australia picked up all of the 160 Indian wickets in eight Tests.)
That the outstanding middle-order would walk into the sunset one day was expected. But it was still painful to witness the fading of Rahul Dravid, VVS Laxman and to a lesser extent Sachin Tendulkar in a Test series where India capitulated without a resemblance of a fight.
"The future has already arrived and kicked down the door," writes Ugra. "What it finds on the other side, representing Indian cricket, is merely uncertainty."
Worrying
That is what is truly worrying. India's prolific domestic cricket is played on dull, flat tracks, which make most of its batsmen vulnerable to the moving ball and bouncy pitches overseas. India's obsession with stars, as former Australian captain Ian Chappell argues, makes it difficult for selectors and the captain to do some straight talking to the legends.
Drunk on the riches of the Indian Premier League, India's shortsighted cricket authorities - and selectors - appear to have no succession plan in place for the batting greats, or a road map for how India can become an competitive away team.
Laxman and Dravid, proud sportsmen both, may well announce their retirement sooner than expected. Tendulkar is not expected to play for very long either. Virender Sehwag is looking a pale shadow of his imperious past, and the talented Gautam Gambhir is hesitant. MS Dhoni, who led India to a fabulous World Cup win last year, appears to have lost interest in the longer format of the game.
India's next away series comes only at the end of 2013, and the time to bring fresh blood is now.
First it needs to snap out of its denial mode. India's rich and upstart young cricketers said the team's failures in England and Australia were nothing to be embarrassed about - "after all, it is only a game", one said - and that the team would return to their winning ways on the slow trundlers that India prepare at home.
Cricket, like most things in shining India, is marked by hubris, cronyism, conflict of interest, and many such moral conflicts. So don't expect any searing and transparent post-mortem of the team's performance, or a sensible plan for the future. It will be a rocky road ahead.