India: Lawyers boycott Pune bus driver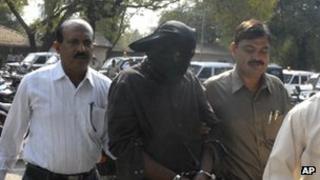 Lawyers in the Indian city of Pune have refused to act for a bus driver who smashed into vehicles and pedestrians on Wednesday morning, killing nine people and injuring 30 others.
The lawyers say they made the decision on "humanitarian" grounds.
The driver, Santosh Maruti Mane, "went berserk" on a 25km (17 mile) high speed drive on Wednesday, police said.
The police say they are questioning the 30-year-old driver to try to determine a motive.
Mr Mane has been produced in court and is now in police remand.
Lawyers in Pune said they will not represent the driver, who works with the government-run state transport department,
'Anger'
"The decision was made on humanitarian grounds and because we think he is a mad person", Milind Pawar of the Maharashtra and Goa Bar Council told the BBC.
There is also a lot of "anger" among the lawyers about Mr Mane's "dangerous act" and so they will not defend Mr Mane, Mr Pawar added.
Any accused is entitled to free legal aid in India if no practising private lawyer stands for him or if the accused cannot afford the fees.
Mr Mane arrived at a bus depot early on Wednesday and drove off with an empty bus, police said.
Eyewitnesses said he drove the vehicle at very high speed and on the wrong side of the road through busy areas, running over pedestrians and smashing into some 40 vehicles.