India court orders probe into Gujarat 'fake encounters'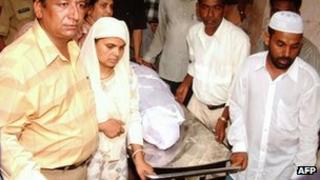 India's Supreme Court has ordered an inquiry into at least 20 cases of alleged extra-judicial killings in Gujarat from 2003 to 2006.
The inquiry will be conducted by a panel headed by retired Supreme Court Judge MB Shah.
The panel has been given three months to submit its first report.
Several top police officers and a former state minister are accused in some of the cases, referred to as staged gunbattles or "fake encounters".
In such encounters, security personnel shoot suspects held in custody but claim there had been an exchange of fire.
Murder charges
Correspondents say the order is a setback for state Chief Minister Narendra Modi, under whose rule the police are accused of the killings.
Human rights groups have repeatedly expressed concerns about the "fake encounters".
In 2005, police killed Sohrabuddin Sheikh, a Muslim civilian, claiming he belonged to an Islamic militant group.
Later, the police admitted he had been killed in a staged gunbattle and three top state policemen were charged with his murder.
The authorities later admitted that his wife, Kausar Bi, was also killed and her body burnt.
In 2010, Amit Shah, former junior home minister in Gujarat and a close ally of Mr Modi, was arrested in connection with that killing.
In 2004, a female student, Ishrat Jahan, and three other people were allegedly killed in a staged clash by Gujarat police.
Police then said they were part of a Pakistan-based militant group and were plotting to kill the chief minister.
But a court-appointed panel last month found they were unlawfully killed.