India leases Russian nuclear submarine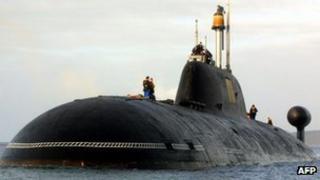 India has taken possession of a nuclear-powered submarine from Russia on a 10-year lease, Indian media say.
The Akula II craft was handed over to India in a ceremony in eastern Russia in a deal that has cost close to $1bn.
India previously owned a Soviet-built nuclear submarine but decommissioned it in 1991. It now rejoins China, Russia, the US, the UK and France as an operator of underwater nuclear vessels.
India is also developing its own nuclear-powered submarine.
It is expected to be ready by the end of this year.
Extinguisher accident
The 8,140-tonne Akula II submarine, the K-152 Nerpa, has been renamed by India as the INS Chakra II.
It was due to be handed over to Delhi in 2009 but was delayed because of problems during testing.
In November 2008, at least 20 people died in an accident on the Nerpa when a fire extinguishing system was activated by mistake.
The INS Chakra II will operate from the Visakhapatnam base in the Bay of Bengal.
Russia is also expected to help India train the crew that will operate the country's indigenously built Arihant nuclear submarine.
India and Russia are long-time allies and Russia supplies 70% of India's military hardware.