Indian soldiers missing after deadly Kashmir avalanche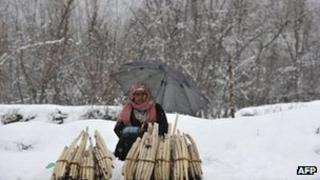 One Indian soldier has been killed and seven others are missing after a massive avalanche hit a morning patrol in Indian-administered Kashmir.
The incident took place in Kupwara, 140km (87 miles) from Srinagar city.
The body of a senior officer has been recovered, an army spokesman told the BBC. He said a rescue operation had been launched to find the missing.
Kashmir has been hit by extreme snowfall, with temperatures dipping to as low as minus 20C.
Officials said a joint team of army and Border Security Force (BSF) personnel had been deployed to clear snow from a patrol track in Farkiyan Gali.
"As the soldiers were clearing the mountainous area on Tuesday morning, a massive avalanche trapped them," the spokesman said.
"We have sought help from the air force and a special team from the high altitude warfare division is on its way to Kupwara. The avalanche is massive, but we hope to find a few survivors," he said.
A large number of Indian soldiers are deployed along the 740km (460 mile) Line of Control which divides the disputed territory of Kashmir between India and Pakistan.