Indian PM Manmohan Singh makes Twitter debut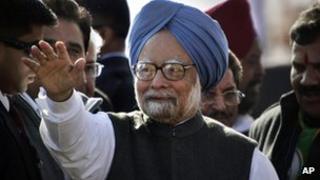 Indian Prime Minister Manmohan Singh has started a Twitter account in an effort to inform people about the work done by his office, aides say.
Mr Singh's account, @PMOIndia, which refers to the prime minister's office, will be handled by his communications team.
Within hours of opening the account late on Monday, Mr Singh had tweeted three times and gained 6,000 followers.
Mr Singh has often been criticised for being inaccessible to the media.
He rarely gives interviews to journalists in India.
"A lot of work gets done in the prime minister's office. Mr Singh makes 30-45 trips in a year. All this is not reflected properly and is not going out to the people. The Twitter account will help in disseminating this information. It will also help him to reach out to younger people," sources in the prime minister's office told the BBC.
They did not rule out the possibility of Mr Singh sending out personal tweets under his own signature in the future.
Mr Singh's first tweet was a remark he made while meeting young recipients of a bravery award in the capital, Delhi.
"You make all of us proud," he tweeted.
A subsequent Tweet carried a photograph of Mr Singh with the recipients of the award.
Earlier, Mr Singh's newly-appointed communications advisor Pankaj Pachauri tweeted that the prime minister's office "is now on Twitter... Thank you".
A number of people have already begun asking questions to Mr Singh on Twitter - one asked him whether electoral reforms were being planned by the government.
One journalist wondered whether the decision to open the account was a "new media outreach from new media advisor".