India police arrest two over July blasts in Mumbai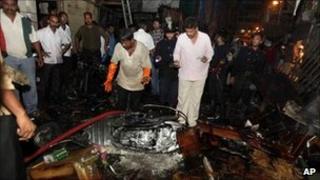 Police in India say they have made major progress and arrested two people in connection with a deadly triple bombing in Mumbai (Bombay) last July.
The two men were arrested in the eastern state of Bihar earlier this month and have been brought to Mumbai to be charged.
The key suspect, the head of the Indian Mujahideen group, is still at large.
Some 27 people were killed and about 130 injured in the near-simultaneous blasts in the evening rush hour.
The head of Mumbai's Anti-Terrorism Squad, Rakesh Maria, said thousands of witnesses had been interviewed and hundreds of closed-circuit cameras studied in the complex investigation.
He named the two arrested men as Naqi Ahmed Wasi Ahmed Sheikh, 22, and Nadeem Akhtar Ashfaq Sheikh, 23.
However, he said Indian Mujahideen leader Yasin Bhatkal, who is the leading suspect, remained at large.
Mr Maria said Yasin Bhatkal had given explosives and detonators to Nadeem Sheikh, who had handed them to Naqi Sheikh.
The arrested pair had both stolen scooters to use in the attack, Mr Maria said.
He added: "The wanted accused in the case is Yasin Bhatkal. We will release his sketches soon."
Frequent target
The three targets of the attack were the Zaveri Bazaar, the Opera House business district and the Dadar district in the city centre.
The attacks were the deadliest in Mumbai since November 2008 when 10 gunmen launched a three-day co-ordinated raid in which 166 people were killed.
Those attacks, which targeted two high-end hotels, a busy train station, a Jewish centre and other sites frequented by foreigners, were blamed on the Pakistan-based Lashkar-e-Taiba militant group.
Mumbai has been targeted many times in recent years.
As well as the 2008 attacks, co-ordinated blasts on seven of the city's trains on 11 July 2006 caused massive loss of life. More than 180 people were killed and hundreds wounded in those bombings, which were blamed on Islamist militants.
The city suffered four bomb attacks during 2003, including twin blasts on 25 August 2003 which killed 52 people.
In 1993, 257 people were killed and 700 injured in a series of 12 bomb blasts across the city.