India's 'calm amid chaos' impresses Oprah Winfrey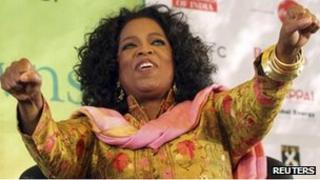 US chat show queen Oprah Winfrey has said her first impression of India was one of "chaos", which she then noticed had an "underlying calm or flow".
Winfrey was cheered loudly by thousands of fans who attended her event at the literary festival in Jaipur on Sunday.
She arrived in India last week and kicked off her week-long visit by partying with Bollywood stars.
Winfrey is on her first visit to the country, to film a documentary and to attend the literary festival.
'Method to madness'
Winfrey said: "So, my first impression was, it was a bit chaotic, and then I realised there is an underlying calm or flow, that everybody else here gets the flow and that as a foreigner, you have to get in and move with the flow."
Winfrey also recounted her experience of the chaotic traffic in Indian cities.
"What is it with the red lights? I mean, does the red light mean stop or not? Or is it just there for your entertainment, I do not get it. What is this?
"I mean the light is red and everybody just keeps going. You all seem to know what they are doing. I can tell you this. I would never be able to drive in this country."
She said that although there seemed to be a "method to the madness" in India, she did not know what it was.
Winfrey said she was struck by the Indian system of living in a "joint family", where several generations lived together: "It's a glorious thing that in this country, families take care of each other."
Winfrey visited the Taj Mahal in Agra and a Mumbai slum last week where she had dinner with a traditional family of four generations.
Her choice of clothes has also attracted a fair bit of attention in India.
At the Jaipur festival, she wore a gold and red traditional salwar-kameez outfit.
She turned up in a red sari to attend a glitzy event attended by Bollywood stars and hosted in her honour in Mumbai last Monday.