India rejects 'total drug resistant TB' claim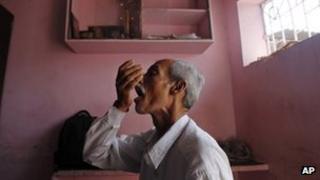 Indian health authorities have rejected recent reports that some tuberculosis cases in Mumbai were totally resistant to antibiotic treatment.
A health ministry team sent to probe the cases said they were "extensively drug resistant" infections.
Earlier, doctors in Mumbai said 12 patients had a "totally drug resistant" form of TB, and three had died.
TB is one of the world's biggest killers, second only to HIV among infectious diseases.
Normally a patient with TB is given a six to nine month course of antibiotics to eradicate it.
However, new strains of the bacterium have developed which are increasingly resistant to the antibiotics most commonly used to treat it.
Partially drug-resistant TB can now be found in countries across the world, and "multi-drug resistant" strains affect countries such as Russia and China.
But concern over drug-resistant strains of TB is growing, with claims of "incurable" TB emerging in Italy and Iran.
'Not recognised'
The team that visited Mumbai to examine the "totally drug resistant" cases has submitted its report to Health and Family Welfare Minister Ghulam Nabi Azad.
"The cases reported by Hinduja hospital fall only within the category of 'extensively drug resistant' TB based on standard World Health Organisation (WHO) definitions and not at all as 'totally drug resistant' TB," the ministry said in a press release.
"Of the 12 patients, nine have been found to be stable on current treatment while three have died," it said.
A WHO official in India told the BBC that the there is no recognised case of totally drug resistant TB anywhere in the world.
"Past claims in Italy and Iran have not stood up to scrutiny and the WHO does not recognise totally drug resistant TB," Dr Shamim Mannan said.
The total drug resistant infections were reported by doctors at the Hinduja National Hospital in Mumbai who said they had treated patients for up to two years with a battery of drugs, to no avail.
The patients came from the crowded city slums where close contact between people meant further spread was likely.
The report fuelled concerns over India's ability to contain the disease in years to come.
India gets nearly two million new TB cases every year - the highest in the world - and the disease, which is fully curable, kills at least 280,000 people annually.
And the huge number of drug-resistant cases are turning out to be a big worry to the authorities - in 2007, India reported 131,000 drug-resistant cases and officials say that number is steadily rising.
Experts say patients who do not finish their lengthy course of treatment present the bacterium with the perfect environment for developing further resistance.