Jaipur literary festival opens amid tight security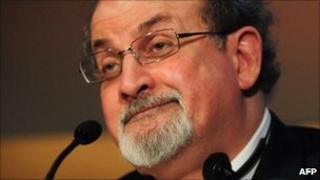 India's biggest literary festival has opened in the northern city of Jaipur amid tight security and doubts over the participation of author Salman Rushdie.
Over 250 authors and a number of celebrities are participating in the five-day-long festival.
Mr Rushdie will miss the opening day of the festival, organisers say, after protests by influential Muslim clerics.
Organisers have taken his name off the list of speakers, although they say they still hope he will turn up.
Muslim groups had decided to drop plans to stage protests outside the festival venue after being ensured by politicians that the author would be "kept away", some Indian media reports said.
"We have no status about Mr Rushdie's [attendance] so far," festival organiser Sanjoy Roy was quoted as saying by The Times Of India newspaper.
Talking point
Tens of thousands of people are expected to attend the festival, which is being attended by authors Michael Ondaatje and Ben Okri, playwright Tom Stoppard, journalists David Remnick and Philip Gourevitch and TV host Oprah Winfrey, among others.
A number of Indian writers and Bollywood directors are also expected to speak at the festival.
Last year some 60,000 people turned up at the festival, which was attended by Tina Brown, Vikram Seth, Martin Amis and Nobel laureate Orhan Pamuk, among others.
The uncertainty over Mr Rushdie's participation has become the talking point this year.
A leading seminary, Darul Uloom Deoband, called on the government to block Mr Rushdie's visit as he "had annoyed the religious sentiments of Muslims in the past".
Darul Uloom is based in the northern Indian state of Uttar Pradesh, which is going to the polls in February. Several political parties have said they support the seminary's demand.
Correspondents say no political party wants to antagonise the Muslim community, which constitutes 18% of the state's voters.
Mr Rushdie was born in India but is a British citizen and has lived in the UK for most of his life. In recent years he has made many private visits to India and attended the Jaipur Literary Festival in 2007.