India minister Pradeep Maharathy quits over 'rape row'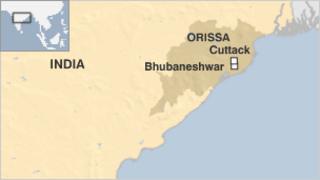 A minister in India's Orissa state has quit after being accused of "shielding" those involved in an alleged gangrape of a low-caste dalit girl.
Agriculture Minister Pradeep Maharathy denies the allegation. He said he resigned on "moral grounds".
The 19-year-old victim is in a coma and admitted to a hospital in Cuttack city.
She was allegedly gangraped on 28 November near her village, about 10km (six miles) from the state capital, Bhubaneswar.
But police registered a case only on 9 January after a public outcry and intervention from the State Human Rights Commission.
Three people have been arrested for the crime while police say they are looking for a fourth suspect.
Mr Maharathy told reporters on Thursday that he had not quit under pressure from the opposition parties who had been demanding his resignation.
"I have tendered my resignation on moral ground. I am not a coward, I am a stalwart. I am ready to face any inquiry," news agency PTI quoted him as saying.
Correspondents say Mr Maharathy's resignation was expected after Orissa Chief Minister Naveen Patnaik earlier said that a decision on the minister's "fate would be taken soon".
However, opposition parties in the state say Mr Maharathy's resignation is an "eye-wash" and that the chief minister should resign over the issue.