Bail for Delhi Commonwealth Games chief Suresh Kalmadi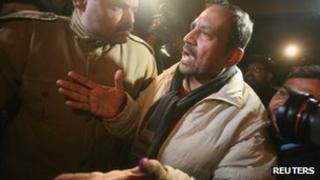 The high court in the Indian capital, Delhi, has granted bail to Suresh Kalmadi, the disgraced former chief of the 2010 Commonwealth Games.
Mr Kalmadi has been in jail since April. He is accused of conspiracy regarding the awarding of commercial contracts for the Games.
He denies any wrongdoing. The build-up to the Games was marred by allegations of sleaze and incompetence.
He was removed from his post in January last year.
The court also granted bail to former Games organising committee official VK Verma.
The court has set bail at 500,000 rupees ($10,000) for Mr Kalmadi and Mr Verma and they are set to leave the Tihar Jail once the bail formalities are completed in the next 24 hours.
"We are expecting the documentation to be completed in a day or two. And we shall expect Mr Kalmadi to walk out either by the end of the day [Thursday] or tomorrow [Friday]," news agency AFP quoted Mr Kalmadi's lawyer Hitesh Jain as saying.
In his bail petition, Mr Kalmadi cited the Supreme Court's recent order in the telecoms scandal which said that "bail is rule and jail is exception".
The Central Bureau of Investigation (CBI) arrested Mr Kalmadi "for conspiracy to cause favour to a company in Switzerland while procuring timers and scoring equipment for the Games".
Other charges related to contracts at a 2009 event in London which marked the start of a baton race across Commonwealth countries, say reports.
If found guilty he could face years in prison. Mr Kalmandi denies the charges.
VK Verma, the former director general of the Games organising committee, was arrested in February last year and accused of financial irregularities linked to the event.
The row over the Games is one of a series of corruption scandals that has rocked India in recent months.