India exhumes graves of Japanese World War II soldiers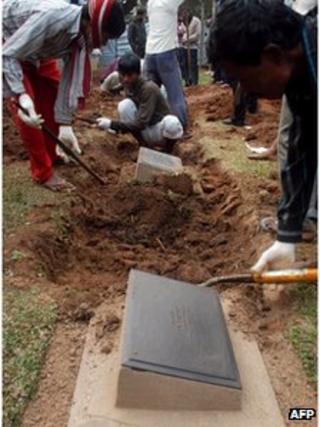 The remains of 11 Japanese soldiers killed in World War II are being exhumed at a war cemetery in the north-eastern Indian city of Guwahati.
Three Japanese officials are in the city to take back the remains to Japan, officials say.
No significant remains have been exhumed yet, reports say.
The Guwahati war cemetery was established during World War II for burials of those killed during the war in the area.
The exhumation is taking place in the presence of officials of Commonwealth War Graves Commission, which maintains the cemetery, police and forensic experts.
"Guwahati is the only war cemetery among the nine war cemeteries in India which has war graves of Japanese soldiers," Commonwealth War Graves Commission (CWGC) regional manager Salew Pfotte told The Hindu newspaper. 
"We have been informed that records available with Japanese government suggest that the remains of the Japanese soldiers had been buried in wooden boxes."
The Guwahati war cemetery has 548 graves, of which 486 belong to Commonwealth servicemen.