India court denigrates 'immoral live-in' relationships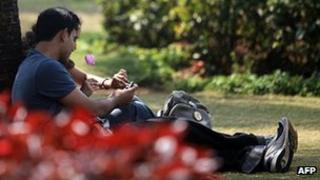 A court in the Indian capital, Delhi, has said that live-in relationships are immoral and an "infamous product of Western culture".
Judge Surinder S Rathi made the remarks after sentencing an Indian woman for killing her Nigerian partner.
Justice Rathi said the live-in relationships were "a fad that is visible only in urban areas".
Though the Supreme Court has endorsed them, live-in relationships are still frowned upon by society in India.
Justice Rathi of the trial court said live-in relationships are still perceived as immoral in India.
"Evidence available on record shows that the immorality of this relationship was further aggravated by the unabated flow of liquor and smoke," he was quoted as saying by The Indian Express newspaper.
In 2010, the Supreme Court dismissed a number of cases against a Tamil actress who spoke in support of the right of women to have pre-marital sex. The court also endorsed the right of unmarried couples to live together.
Actress Kushboo was accused of outraging public decency and 22 cases were filed against her in 2005.