Salman Rushdie Jaipur trip in doubt after India protest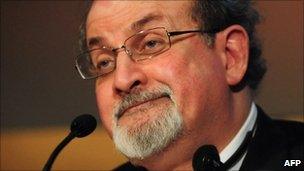 Salman Rushdie will miss the opening day of the Jaipur literary festival, organisers say, after protests by influential Muslim clerics in India.
The author had been due to speak at three sessions during the five-day event, which begins on Friday.
But organisers have now taken his name off the list of speakers, although they say they still hope he will turn up.
Mr Rushdie sparked anger in the Muslim world with his book The Satanic Verses, which many regard as blasphemous.
"Salman Rushdie will not be in India on 20 January due to a change in his schedule. The festival stands by its invitation to Mr Rushdie," the organisers said in a statement.
It is unclear if he will attend sessions on the following days.
The Times Of India newspaper reported that the government of Rajasthan state - where Jaipur is located - had persuaded the organisers to "ask Mr Rushdie... to call off his visit".
The newspaper said that the government was anxious as the British Indian author's presence would create a "huge security risk".
Rajasthan Chief Minister Ashok Gehlot told reporters that he did not know whether Mr Rushdie would attend the festival.
"[But] there is a reaction among the locals, they don't want Salman to come," he was quoted as saying by the Press Trust of India.
"No state government will want a law and order situation. I have informed the centre [federal government] about the prevailing sentiments," Mr Gehlot said.
Last week, the Darul Uloom Deoband seminary's vice-chancellor, Maulana Abul Qasim Nomani, called on the government to block Mr Rushdie's visit by "cancelling his visa" as he "had annoyed the religious sentiments of Muslims in the past".
"In case of no response from the government, the Darul Uloom Deoband will take appropriate action," Mr Nomani said.
Darul Uloom is based in the northern Indian state of Uttar Pradesh, which is going to the polls in February. Several political parties have said they support the seminary's demand.
Correspondents say no political party wants to antagonise the Muslim community, which constitutes 18% of the state's voters.
Mr Rushdie was born in India but is a British citizen and has lived in the UK for most of his life. In recent years he has made many private visits to India and attended the Jaipur Literary Festival in 2007.
Related Internet Links
The BBC is not responsible for the content of external sites.