India crew rescued from Italian ship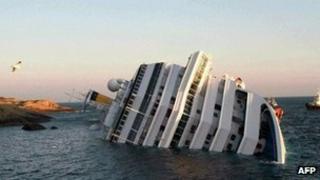 Over 200 Indian crew members have been rescued from the cruise ship that capsized off the Italian coast on Friday, a senior official told the BBC.
Rescue workers are searching for one missing crew member of Costa Concordia, senior Indian embassy official Sunil Aggarawal said.
The ship was carrying more than 4,200 people, including 1,000 crew.
The operators of the ship have agreed to send all the Indians home with the help of the Indian government.
"The rescued Indians are in hotels in Grosseto", Mr Aggarawal said.
"The ship's company has agreed to repatriate them to India and the Indian embassy will provide travel documents", he said.
Officials have sought a passenger list to make sure there were no Indian passengers on board at the time of the accident.
The Costa Concordia is lying on its side just metres off the Tuscan island of Giglio.
At least six people have died in the incident and about 15 remain unaccounted for. Divers are trying to find more survivors.