Yoko Ono show a 'tribute to Indian women'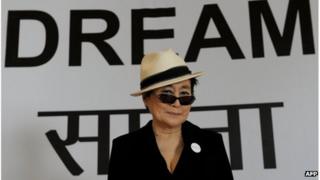 Yoko Ono posed under a banner screaming 'Dream' in English and Hindi, looking much younger than her 79 years.
What have you brought with you to India? asked the journalists who filled the room at a posh Delhi hotel.
"I did not bring anything but myself. That's all I have," replied Ms Ono, John Lennon's widow and avant-garde artist.
Ms Ono is in the Indian capital with her first-ever exhibition called Our Beautiful Daughters which, she told the BBC, is "dedicated to the women of India".
Beginning on Friday and running until 10 March, the exhibition will host 20 art projects, many of them involving the people of Delhi.
Ms Ono's famous work, Wish Trees, will be also on display at various venues, including schools, hospitals, consulates, book shops and other public spaces. Viewers will be allowed to participate and write their "hopes and prayers" on paper tags and paste them on the trees.
The Wish Tree, which was inspired by Ms Ono's visit to a Japanese temple as a child, has been previously shown in America, Europe and in Japan.
Another show called The Seeds will showcase Ms Ono's earlier work - films, photographs, collaborations with other artists.
Our Beautiful Daughters, the main exhibition, was "inspired" by India and "what this grand land will teach me," Ms Ono said.
'Create together'
She said its success will depend on the participation of the people of the city.
"I am very interested in your creativity and I don't want to show any work but prefer to create together. That is healthy."
Ms Ono said she was drawn to India because of its women.
"It has to do with emotion and that Indian women, despite suffering, are still standing".
To celebrate the wealth of craftwork the poor village women in India produce, Ms Ono will collaborate with a group of craftswomen who will help her produce "India specific work" in the month to come.
"The beautiful work done by Indian women is helping the world as part of the peace industry," she told the BBC in an interview.
With Ms Ono the gesture and symbols are as important as the message.
"We are impressed by her enthusiasm and the subtlety and precision with which Ms Ono had planned her encounter with India," says Vidya Shivadas, the curator of Vadehra Art Gallery, which is hosting the exhibition.
In the past Ms Ono's shows have been marked by controversy. In her early years, she once stood wrapped in garments inviting viewers to cut the fabric away until she was naked.
However the exhibitions in India, she said, are "a dedication to the women of India with my love and respect for them, and a message to all women of the world to never forget."
"Yoko Ono's artwork and ideas resonate well with Indian values. Among other things, her works bring into focus the issue of gender. Her new installation for India called 'Remember Us' will reflect that," says Roshini Vadehra of Vadehra Art.
This is not Ms Ono's first visit to India.
Although she could not recollect the year, she remembered her first visit with Lennon had been after "the four men had been here".
The Beatles travelled to India in February 1968 to visit their guru Mahesh Yogi's ashram in Haridwar.
Ms Ono recalled spending a couple of nights in Bombay (now Mumbai) before travelling to an ashram to meet a guru when she came visiting with Lennon.
She called it "an incredible experience" of being surrounded by hills and thinking it had a "beautiful feeling to it".
The couple had found it disturbing that men and women were segregated while the guru spoke.
"Maybe it was rude but John held to me and insisted we sit together."
Ms Ono said ageing doesn't worry her a bit and she continues to work hard.
"Time is a man-made concept. I don't go by it. I feel freer and more energetic [now]."