India cricket captain Dhoni may 'give up Tests by 2013'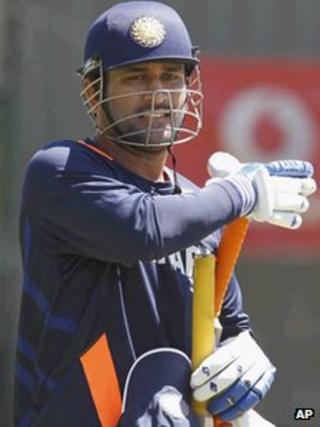 Indian cricket captain Mahendra Singh Dhoni has said that he may quit Test cricket if he is to play in the 2015 World Cup.
He said he would take a decision not before the end of 2013, by which time he would be 32.
Dhoni took over as the captain of one-dayers and Twenty20 in 2007 and added the Test captaincy a year later.
Earlier, media reported had quoted Dhoni as saying that he would decide by 2013 if he would play in the World Cup.
"If I have to see through the 2015 World Cup, I would have to retire from one of the formats," Dhoni said.
"It's too early right now. I am not that old. I am just 30. There is still time. We will see by 2013, and by 2013, I mean the end of 2013," he said.
Earlier, the cricketer had said that he would have to see whether he was fit enough to continue to play till the next World Cup.
Dhoni, India's wicketkeeper, has captained the team in 36 Tests. He has captained in 175 games across all formats.
He is considered one of India's most successful captains.
The 2015 World Cup will be played in Australia and New Zealand.
The Indian team is currently touring Australia where they are 2-0 down in the Test series. The third Test begins in Perth on Friday.
'Aggressive fans'
Speaking to reporters ahead of the match, Dhoni said the Australian fans were "a bit aggressive", but Indian players would have to find a better way to deal with their taunts and goading.
Indians Ishant Sharma and Virat Kohli have been chastised for making obscene finger gestures to the public in the last week.
Kohli even lost 50% of his match fee for his on-field offence. He said he had been provoked by the crowds.
"There's somebody who starts something and more often than not it's the retaliator that gets stuck and always gets punished," Dhoni said.
"It happens in cricket also. So I think we need to get smart as to what needs to be done.
"Talking about a particular Test match, what happens is everybody's fantastic early in the morning, but once, after the tea session, after a couple of barrels of beer, it gets a bit difficult.
"You see the Aussie fans, they are a bit aggressive in that sense, and they're quite verbal about it, but again it's something that you need to learn as to how you interact with the fans and how you can work them into someone who wants you to perform as an individual."