Indian tax evaders subjected to a 'load of rubbish'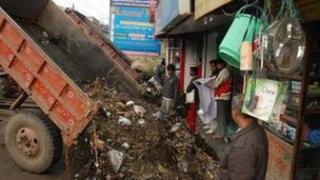 Civic authorities in India's Bihar state have dumped heaps of stinking garbage outside a shopping complex to penalise its owner for evading taxes.
Three truckloads of rubbish were emptied outside the centre in the state capital Patna's Kankerbagh locality.
Officials said they were forced to take the extreme step as the complex owner had not paid taxes for 12 years.
After a public outcry, the civic authority removed the garbage from the area where it had been deposited.
It says it will no longer use "such unusual ways" to collect tax dues.
Patna is one of India's filthiest cities with stinking piles of rubbish literally found in every nook and cranny.
The Municipal Corporation officials often express their inability to clean the city because of staff shortages and poor resources.
'No option'
Harishankar Prasad, senior deputy tax collector of Kankerbagh area, told the BBC that he had repeatedly asked Avinash Kumar, the proprietor of the JP Market complex, to clear his dues of 164,000 rupees ($3,175; £2,052)
On Tuesday, civic officials dumped the rubbish in front of the market gate, ignoring protests from local shopkeepers.
"We had no option left after several reminders to him to pay the tax dues had went unheeded," Mr Prasad said.
He said it was done to put pressure on Mr Kumar to clear his dues.
Upset by the stench, residents of the nearby area protested by blocking roads against the "unusual way of embarrassing people into paying their tax dues".
"Why should people, who pay their taxes regularly, have to suffer the stench of garbage on the road?" asked Rajesh Kumar.
"The stinking filth is unbearable and it forced us to remain indoors for the whole day on Tuesday."
Mr Prasad said the civic authority was not planning to repeat the "unusual" punishment.
"We've abandoned the exercise for the time being," he said.
"But please ask those defaulters where in the law is it written that they can live in the city, do their business and not pay municipal taxes?" he asked.
It is not the first time Patna civic officials have opted for unusual ways to humiliate tax defaulters.
In 2006, municipal corporation officials hired a group of eunuchs to shame tax defaulters into paying their dues.
Eunuchs - who are feared and reviled in many parts of India - gathered outside the shops or homes of suspected tax defaulters and sang "to embarrass" them into paying their dues.
The scheme, however, was discontinued after some time following public protests.