India Andaman Jarawa tribe in 'shocking' tourist video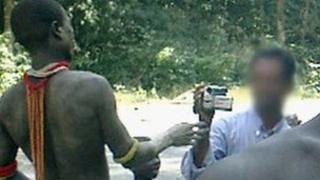 Authorities on India's Andamans archipelago have been asked to explain a video showing naked tribal women dancing for food.
The video was obtained by a British reporter who wrote an article on "trusting members of the Jarawa tribe being exploited by tourist safaris".
Tribal affairs minister KC Deo described the video as "obnoxious" and "disgusting".
Tribal rights groups have been calling for operators to stop such tours.
The video has caused shock and anger in India.
"It's one of many videos that are in circulation," Observer reporter Gethin Chamberlain told the BBC.
Mr Chamberlain thinks the video was shot about two to three years ago after a police officer was bribed to take tourists into the reserve.
His story in The Guadian newspaper says that the reclusive Jarawa tribe is about 400-strong and has only recently begun taking the first tentative steps towards a relationship with the outside world.
The allegations have been strongly denied by the director general of police on the islands, Shamsher Bahadur Deol.
He said that the man seen on the video is definitely not a policeman.
"I can say that 100% and I have looked at the video clip very, very closely," Mr Deol said.
He said the video must have been shot about 10 years ago because the tribespeople that come near the road today are never naked, as they were earlier.
He said it was not possible for the police to stop the Jarawas from coming to the road. Vehicles are only allowed in the area in convoys with a police escort.
Mr Deol said that about 1,000 arrests had been made in the past five years of people trying to make contact with the Jarawas.
"But it's impossible for them to catch everyone," he said.
The Andaman trunk road was built in the 1970s, cutting through thousands of acres of forestry reserve in which the Jarawas live and leading to tourists and settlers encroaching onto their habitat.
Reports say that some tour operators offer tourists the opportunity to interact and photograph Jarawa tribespeople even though this is illegal.
Verge of extinction
Experts estimate that the Jarawas - essentially hunter-gatherers - came to the Andamans 60,000 years ago.
They are just one of several indigenous tribal groups living in the Indian Andaman and Nicobar islands in the Bay of Bengal.
Short, with dark skin and curly hair, they resemble African bushmen in appearance. Today, however, the tribe is on the verge of extinction.
Tribal rights activists say immediate measures must be taken to prevent any further decline in their numbers.