India and Israel hail their warm relationship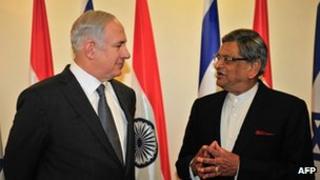 Indian Foreign Minister SM Krishna has described Israel as an "important partner" of his country.
Mr Krishna ends a two-day visit to Israel on Tuesday. He said the two countries enjoyed warm relations.
He said they were working together on counter-terrorism, defence, agriculture and the water and energy sectors.
The visit is the first by an Indian foreign minister in more than a decade. The two countries celebrate 20 years of diplomatic relations this year.
"There are several sectors in which India and Israel will be working together and are working together which are critical for both our economies," Indian Ambassador to Israel Navtej Sarna told the Press Trust of India.
Correspondents say that ties between the two countries have grown substantially - from $200m (£130m) in 1992 to about $5bn (£3.2bn) last year.
In addition, bilateral defence trade is worth about $9bn (£5.8bn) and is growing at a fast pace.
Tel Aviv has emerged as the second biggest defence supplier to Delhi after Moscow.
Israeli President Shimon Peres reflected the warmth of their relationship when greeting Mr Krishna on Monday.
He described India as the "greatest democracy on earth" and said that Israel wants Delhi to become a permanent member of the expanded United Nations Security Council.