India seminary urges bar on Salman Rushdie visit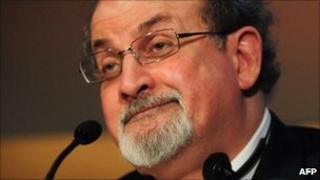 India's best-known Islamic seminary has called on the government to block a planned visit to the country by author Salman Rushdie.
Mr Rushdie is due to attend the Jaipur Literature Festival later this month.
The 64-year-old sparked Muslim anger around the world with his 1988 book The Satanic Verses, which many regarded as blasphemous.
He lived in hiding for many years after Iran's Ayatollah Khomeini issued a fatwa calling for his execution.
"The Indian government should cancel his visa as Rushdie had annoyed the religious sentiments of Muslims in the past," the Darul Uloom Deoband seminary's Vice-Chancellor Maulana Abul Qasim Nomani said.
He said he had put his request in writing to Prime Minister Manmohan Singh and Congress President Sonia Gandhi.
"In case of no response from the government, the Darul Uloom Deoband will take appropriate action," Mr Nomani said.
Darul Uloom is based in the northern Indian state of Uttar Pradesh, which is going to the polls in February. Several political parties have said they support the seminary's demand.
Correspondents say no political party wants to antagonise the Muslim community, which constitutes 18% of the state's voters.
However, Mr Rushdie said the seminary was mistaken.
"Regarding my Indian visit, for the record, I don't need a visa," he wrote on the micro-blogging site Twitter.
Organisers of the festival also said the Indian-origin author did not require a visa.
This is not the first time Mr Rushdie has visited India. He has made many private visits to the country and also visited the Jaipur Literary Festival in 2007.