Leopard in deadly attack in Indian city of Guwahati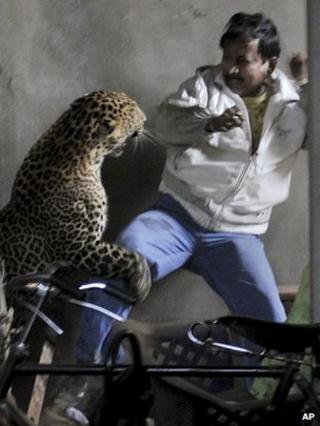 One person has been killed and several others injured in an attack by a leopard in the Indian state of Assam.
The man died after the leopard attacked several people in a densely populated area of the city of Guwahati.
The leopard strayed into the Shilpukhuri area of the city on Saturday and attacked residents, one of whom died the next day of his injuries.
The animal has now been released into the Manas Wildlife Sanctuary, forest officials said.
For the people of Guwahati, bomb blasts and other terror attacks were not uncommon till recently, because of repeated attacks by the secessionist United Liberation Front of Assam (Ulfa), but a leopard straying into a town is rare, particularly during the day.
Chased out
The leopard was first sighted on Saturday morning near a crematorium in the town.
As the funeral of a Congress Party leader's son was going on, the place was full of dignitaries, ministers and other VIPs.
Police sent them to a safer place and chased the leopard out, but it turned towards the Shilpukhuri residential area.
"First, it jumped across several multi-storey buildings, including a bank, then jumped on to the ground," said Manas Paran, photojournalist for the Sunday Indian magazine and an eyewitness.
Local people armed with sticks and iron rods tried to chase the leopard away. The enraged animal then started attacking locals, Mr Paran told BBC.
Mr Paran kept following the big cat at extremely close quarters to get good pictures for his magazine.
Deb Kumar Das, aged around 50, was one of the first people whom the leopard clawed at. He suffered severe wounds to the head, ear and neck.
He was treated in hospital but later returned home, where he was found dead on Sunday.
Several others suffered the ire of the big cat. One of them, Kripesh Dey, had part of his scalp removed in the attack.
Later, when the leopard entered a shop, locals locked it up. Forest officials and vets reached the scene after some time with tranquilisers and were able to capture it.
"After it was tranquilised and treated in Guwahati Zoo, we released it in the Manas Wildlife Sancturary today", said Utpal Borah, head of the zoo.
This incident has once again brought to fore the conflict between humans and animals in India.
Assam's forest officials say humans are encroaching onto leopard habitats. Residential areas built right in leopard habitats have become vulnerable to such attacks.
This is the second death from leopard attacks in five years.