Indian magicians seek ruling on magic 'art'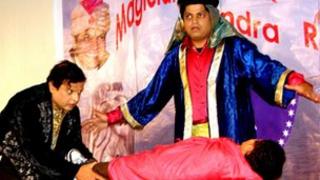 A father and son conjuring act from the Indian city of Pune have asked the Bombay High Court to rule on whether magic can be classed as an art form.
Vijay and Jitendre Bhopale turned to the high court after failing to get a satisfactory response on the issue from the Maharashtra state government.
The pair say defining magic as art will force the state to provide funds and dispel superstitions about it.
The court will consider the case by the end of the month.
The Bombay High Court will begin its hearing on whether magic is an art form at the end of January.
"Magic is an art in the way acting is or dance and theatres are," said 33-year-old Jitendre Bhopale.
He said officially granting magic the status of art would force the Maharashtra government to come up with a policy to promote it as such, make funds available to struggling magicians and remove superstitions associated with it.
The Maharashtra state government has made no official comment on the magicians' petition as yet.
'Disease cure'
Mr Bhopale, who holds an engineering degree from a US university, says magic is an ancient Indian art and it has no state support.
"Magic has been around since the Ramayana and Bhagvad Gita [Hindu holy books] but today it's not treated as an art form".
Mr Bhopale is also angry that the "art" of magic has been usurped and misused.
"There are many people today who deceive audiences by claiming [magic] has supernatural elements. They are giving a bad name to magic," he said.
Jitendre, who works as a manager with the Tata Group, said there were many people in India who believed magic could cure cancer or other diseases.
"Once it attains the status of art we can rid magic of such misgivings by giving lessons on magic in schools and colleges," he said.
"In our shows we tell our audiences that magic is an art form, we are performers, we do illusionary tricks, which comes from learning and practice. We warn them against those who present magic as a supernatural power."