India aviation chiefs question Kingfisher on safety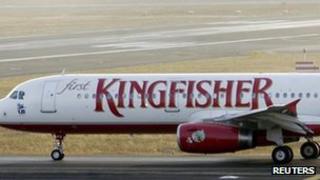 India's aviation regulator has met Kingfisher Airlines and Air India Express after an internal report raised finance-related safety concerns.
Bharat Bhushan, director general of civil aviation, said the airlines were asked to take "several steps".
But he denied any carrier was in danger of having its licence cancelled, after the internal audit report was quoted as saying this might be considered.
Kingfisher and Air India Express both defended their safety standards.
Kingfisher said it was operating with "utmost safety".
"This is an audit which the DGCA carried out... [which] we are going to reply to at the meeting today (Thursday)," news agency AFP quoted a Kingfisher spokesman as saying.
An Air India Express spokesman also defended the carrier's safety standards.
'Financial distress'
The regulator met executives from Kingfisher and Air India Express in Mumbai.
Mr Bhushan said that at a time when airlines were in financial difficulties, the regulator was bound to ask carriers to address its concerns.
He said: "We have been in touch with all the airlines... and we are ensuring that safety norms are ensured. We have asked them to come back in a few days and tell us what measures they will be taking."
The Times of India had quoted from the report, saying: "A reasonable case exists for a withdrawal of their (Kingfisher's) airline operator permit as their financial stress is likely to impinge on safety."
The audit also criticises Air India Express, the budget arm of state carrier Air India, saying a "case exists for restricting their operations in view of safety issues".
The audit also found "major financial distress issues" with other airlines.
Kingfisher - owned by liquor baron Vijay Mallya - recently announced significant losses amid cost concerns for the whole Indian aviation sector.
In September the airline shut its budget carrier, Kingfisher Red, saying it no longer intended to compete in the low-cost market.
Five of India's six main airlines are loss-making. They have been particularly badly hit by fuel price rises.